Selling Yourself
"Enter ye in at the strait gate: for wide is the gate, and broad is the way, that leadeth to destruction, and many there be which go in thereat: Because strait is the gate, and narrow is the way, which leadeth unto life, and few there be that find it." Matthew 7:13-14
King James Bible Study - Help in the Time of Need
The Issue:
The Basic Truths Of Life!
TRUTHS
Everyone that ever walked on this planet must come to terms in this life with some basic TRUTHS. These will be the basic truths that no one can argue with, if they are sane. Of course, if you believe what God says in His Own BOOK about you, then you will have no problem with accepting these basic truths.
1. The Brevity Of Life
"For what is your life? It is even a vapour, that appeareth for a little time, and then vanisheth away." (James 4:14b) Our life is brief! like a vapor, or like smoke. "Is there not an appointed time to man upon earth? are not his days also like the days of an hireling?" (Job 7:1) He is born, and then he will die! This is certain! (The exception being Enoch and Elijah, and also, those believers in Jesus Christ who are alive when He comes for His Church.)
2. The Brevity Of Your Remembrance
You will soon be forgotten. A man is remembered only a little while, and then he is forgotten. "He shall return no more to his house, neither shall his place know him anymore. Are not my days few? cease then, and let me alone, that I may take comfort a little, Before I go whence I shall not return, even to the land of darkness and the shadow of death; A land of darkness, as darkness itself; and of the shadow of death, without any order, and where the light is as darkness." (Job 7:10 & 10:20-22)
3. The Sureness Of Trouble
Life is bale full of troubles. I have also found this very true!!! "Man that is born of a woman is of few days, and full of trouble. He cometh forth like a flower, and is cut down: he fleeth also as a shadow, and continueth not." (Job 14:1).
4. The Verity Of The White Throne Judgment
"And as it is appointed unto men once to die, but after this the judgment" (Hebrews 9:27). You will not miss this one unless YOU ARE HID in the CLEFT OF THE ROCK!
5. The Eternality And The Finality Of What You Do With Jesus Christ:
We will all be held accountable over this issue. It is a hard fact of life, my friend. Now will you take God's offer of eternal life ... purchased by His Son ... for all those who will put their trust in Him ... a thumbs down? You will everlastingly suffer the consequences!
6. That Men Never Learn From History
We learn from History That Men Never Learn From History! It is a heart problem! Men refuse to learn the "lessons" afforded by the light of HISTORY: the recorded historical events which occurred as fulfillment of Bible prophecy. Now, these are the basic truths with which we all must deal with one way or another!
7. What Should You Do?
"But what saith it? The word is nigh thee, even in thy mouth, and in thy heart: that is, the word of faith, which we preach;
That if thou shalt confess with thy mouth the Lord Jesus, and shalt believe in thine heart that God hath raised him from the dead, thou shalt be saved.
For with the heart man believeth unto righteousness; and with the mouth confession is made unto salvation.
For the scripture saith, Whosoever believeth on him shall not be ashamed.
For there is no difference between the Jew and the Greek: for the same Lord over all is rich unto all that call upon him.
For whosoever shall call upon the name of the Lord shall be saved"; [Romans 10:8-13]
THE BIBLE :
Believe The BOOK!
The King James Bible
This is God's Holy WORD to you and I! Do you believe it? The A.V.1611 (or The King James Bible) is God's word PRESERVED in the English language for you and me. It came from the English Reformation. This Bible declares that: "All scripture is given by inspiration of God, and is profitable for doctrine, for reproof, for correction, for instruction in righteousness." [2 Timothy 3:16] God's inspired word is preserved in the A.V.1611. The word "preserved" means maintained inspiration. "The words of the LORD are pure words: as silver tried in the furnace of earth, purified seven times. Thou shalt keep them, O LORD, thou shalt preserve them from this generation for ever." [Psalm 12:6-7] "PRESERVE." .
Home In The Hills:
[Or New Jerusalem]
LONG HOME
Everybody is going home someday. Everybody is going to their LONG HOME. When you die, you are going to go to your "long home" whether, it be in "Heaven" or in "Hell". Do you realize that truth? "Also when they shall be afraid of that which is high, and fears shall be in the way, and the almond tree shall flourish, and the grasshopper shall be a burden, and desire shall fail: because man goeth to his long home, and the mourners go about the streets:" [Ecclesiastes 12:5]. Read More?
Selling Yourself
Old Paths Baptist Mission © 2011 Richard St.James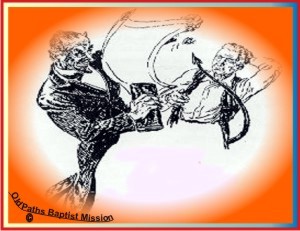 ---
Jabez Stone
Now we come to a scene ... an imaginary scene, visualized in the mind of Steven Vincent Benet years ago. "It is a story they tell in the border country, where Massachusetts joins Vermont and New Hampshire."
1
It is a good old story for an old New Englander ... like myself. I remember when I was a high school student in Peacham, Vermont, that The Devil And Daniel Webster was required reading in my English Literature class in 1967.
This was a long time before I got saved by the blood of the Son of God, Jesus Christ. Yet, even then, I remember a strange feeling over a certain aspect of Benet's story.
Even though Daniel Webster was an important man early in our history as a nation, it was not him who I primarily remembered all these years. And even though that unsavory character, the Devil himself, known as "the stranger" or "Scratch" in the story ... stuck in my mind, it rather was the eeriness over the plight of another person in the story. It was over Jabez Stone. "There was a man named Jabez Stone, who lived at Cross Corners, New Hampshire."
2
There is nothing too peculiar thus far. "He wasn't a bad man to start with, but he was an unlucky man."
3
Now if we believe Benet on this score, that is, concerning what a bad man is, we will begin to believe the silly modernistic liberal's mindset: That there is a little good in all men! You better throw this one out in the trash, and instead,
BELIEVE THE BIBLE
!
"As it is written, There is none righteous, no, not one: There is none that understandeth, there is none that seeketh after God. They are all gone out of the way, they are together become unprofitable; there is none that doeth good, no, not one.
Their throat is an open sepulchre; with their tongues they have used deceit; the poison of asps is under their lips: Whose mouth is full of cursing and bitterness: Their feet are swift to shed blood: Destruction and misery are in their ways: And the way of peace have they not known: There is no fear of God before their eyes."
[Romans 3:10-18]
There it is ... the double-barrel shotgun has gone off directly in the face of all who would believe in any goodness residing in man's heart. Let's just say that Jabez was not outwardly immoral. That is about where we all start. We come into the world, dead in our sins, and without a spark of goodness inside us.
Now I hear you say, "Oh, my goodness! I am not all that bad." Really! What goodness is that my friend? I am pleading with you to take God at His word. In the story, Jabez Stone, as a young man, begins to promote his lot in life. He goes by all the rules and keeps his nose clean. He does all the normal things! He finds himself a wife and they two have children. He works hard to get ahead, and yet he is always spinning his wheels. It is a series of misfortunes that "dogs" him. Then "one day Jabez gets sick of the whole business."
I mean he was about to call it quits. This is the bump in the road I referred to earlier. It was coming for him! Benet's narration gives it this way. "It was about the last straw for Jabez Stone. 'I vow,' he said, and looked around him kind of desperate---'I vow it's enough to make a man want to sell his soul to the devil! And I would, too, for two cents!' Then he felt a kind of queerness come over him at having said what he'd said; though, naturally, being a New Hampshireman, he wouldn't take it back."
4
Now friend, I know you have seen some person suddenly bump into something in their life, and seen some discernible change in the direction of their life. (The wrong direction!) It can happen any time ... to any one of us. I am inditing in this matter of the heart of man.
How many of the children of men have fallen into the pit of selling themselves to the Devil? It is a common saying among many that every man has a price. In The Devil And Daniel Webster, Jabez Stone had in mind a price for which he was willing to pay in exchange for worldly gain. To gain this world's rewards, he would even be willing to sell his own soul. Poor Jabez! He went after temporal gain to the total neglect of that which is eternal. Like Esau, he was willing to "sell" his own birthright for a mess of pottage! My friend, never...never make the mistake about your soul's worth before God! Your soul is precious to God.
Quotes
1
,
2
,
3, 4
from:
The Devil And Daniel Webster
, Steven Vincent Rene
Go to:
All We Like Sheep
Psalm 12 ... is the promise to us!
Purified seven times ... God's word is kept in spite of men!
Help, Lord; for the godly man ceaseth; for the faithful fail from among the children of men.
[Verse 1]
They speak vanity every one with his neighbour: with flattering lips and with a double heart do they speak. [Verse 2]
The Lord shall cut off all flattering lips, and the tongue that speaketh proud things: [Verse 3]
Who have said, With our tongue will we prevail; our lips are our own: who is lord over us? [Verse 4]
For the oppression of the poor, for the sighing of the needy, now will I arise, saith the Lord; I will set him in safety from him that puffeth at him. [Verse 5]
The words of the Lord are pure words: as silver tried in a furnace of earth, purified seven times. [Verse 6]
Thou shalt keep them, O Lord, thou shalt preserve them from this generation for ever. [Verse 7]
The wicked walk on every side, when the vilest men are exalted. [Verse 8]