Meet the Coats Family
"

F

or the grace of God that br

IN

geth sa

L

v

A

tio

N

hath appeare

D

to all men," (Titus 2:11)
King James Bible Study - Help in the Time of Need
The Issue:
The Basic Truths Of Life!
TRUTHS
Everyone that ever walked on this planet must come to terms in this life with some basic TRUTHS. These will be the basic truths that no one can argue with, if they are sane. Of course, if you believe what God says in His Own BOOK about you, then you will have no problem with accepting these basic truths.
1. The Brevity Of Life
"For what is your life? It is even a vapour, that appeareth for a little time, and then vanisheth away." (James 4:14b) Our life is brief! like a vapor, or like smoke. "Is there not an appointed time to man upon earth? are not his days also like the days of an hireling?" (Job 7:1) He is born, and then he will die! This is certain! (The exception being Enoch and Elijah, and also, those believers in Jesus Christ who are alive when He comes for His Church.)
2. The Brevity Of Your Remembrance
You will soon be forgotten. A man is remembered only a little while, and then he is forgotten. "He shall return no more to his house, neither shall his place know him anymore. Are not my days few? cease then, and let me alone, that I may take comfort a little, Before I go whence I shall not return, even to the land of darkness and the shadow of death; A land of darkness, as darkness itself; and of the shadow of death, without any order, and where the light is as darkness." (Job 7:10 & 10:20-22)
3. The Sureness Of Trouble
Life is bale full of troubles. I have also found this very true!!! "Man that is born of a woman is of few days, and full of trouble. He cometh forth like a flower, and is cut down: he fleeth also as a shadow, and continueth not." (Job 14:1).
4. The Verity Of The White Throne Judgment
"And as it is appointed unto men once to die, but after this the judgment" (Hebrews 9:27). You will not miss this one unless YOU ARE HID in the CLEFT OF THE ROCK!
5. The Eternality And The Finality Of What You Do With Jesus Christ:
We will all be held accountable over this issue. It is a hard fact of life, my friend. Now will you take God's offer of eternal life ... purchased by His Son ... for all those who will put their trust in Him ... a thumbs down? You will everlastingly suffer the consequences!
6. That Men Never Learn From History
We learn from History That Men Never Learn From History! It is a heart problem! Men refuse to learn the "lessons" afforded by the light of HISTORY: the recorded historical events which occurred as fulfillment of Bible prophecy. Now, these are the basic truths with which we all must deal with one way or another!
7. What Should You Do?
"But what saith it? The word is nigh thee, even in thy mouth, and in thy heart: that is, the word of faith, which we preach;
That if thou shalt confess with thy mouth the Lord Jesus, and shalt believe in thine heart that God hath raised him from the dead, thou shalt be saved.
For with the heart man believeth unto righteousness; and with the mouth confession is made unto salvation.
For the scripture saith, Whosoever believeth on him shall not be ashamed.
For there is no difference between the Jew and the Greek: for the same Lord over all is rich unto all that call upon him.
For whosoever shall call upon the name of the Lord shall be saved"; [Romans 10:8-13]
THE BIBLE :
Believe The BOOK!
The King James Bible
This is God's Holy WORD to you and I! Do you believe it? The A.V.1611 (or The King James Bible) is God's word PRESERVED in the English language for you and me. It came from the English Reformation. This Bible declares that: "All scripture is given by inspiration of God, and is profitable for doctrine, for reproof, for correction, for instruction in righteousness." [2 Timothy 3:16] God's inspired word is preserved in the A.V.1611. The word "preserved" means maintained inspiration. "The words of the LORD are pure words: as silver tried in the furnace of earth, purified seven times. Thou shalt keep them, O LORD, thou shalt preserve them from this generation for ever." [Psalm 12:6-7] "PRESERVE." .
Home In The Hills:
[Or New Jerusalem]
LONG HOME
Everybody is going home someday. Everybody is going to their LONG HOME. When you die, you are going to go to your "long home" whether, it be in "Heaven" or in "Hell". Do you realize that truth? "Also when they shall be afraid of that which is high, and fears shall be in the way, and the almond tree shall flourish, and the grasshopper shall be a burden, and desire shall fail: because man goeth to his long home, and the mourners go about the streets:" [Ecclesiastes 12:5]. Read More?
Meet the COATS family ... missionaries to FINLAND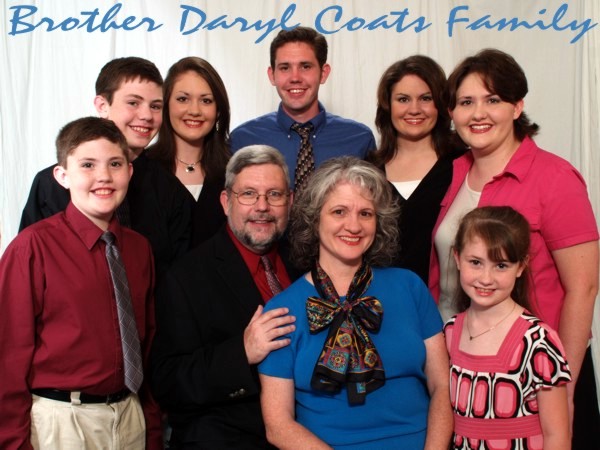 ---
"

F

or the grace of God that br

IN

geth sa

L

v

A

tio

N

hath appeare

D

to all men," (Titus 2:11)
"Then went king David in, and sat before the LORD, and he said, Who am I, O Lord GOD, and what is my house, that thou hast brought me hitherto?" (2 Samuel 7:18).
"For by grace are ye saved through faith"
By the grace of God I was saved through faith in early 1968 in La Junta, Colorado, where my career-military father was stationed. Since 1968 God has sustained and kept me by His grace, and He will one day "bring me home" by His grace.
"Honour thy father and thy mother"
By God's grace, I have two saved parents and two saved brothers. Some of my earliest memories are of my mother reading Bible stories to my brothers and me while Dad was temporarily stationed in Greenland—and of her asking us questions to make sure that we were listening! I can also remember reading aloud from the family Bible while sitting on my father's lap—which is where I learned that the "p" in "psalm" is silent.
"Whoso findeth a wife findeth a good thing"
Since October 28, 1979, I have been married to the former Victoria Vaughan, the saved daughter of two saved parents.
"Behold, I and the children which God hath given me"
In our 26+ years of married life, God has blessed us with seven children, the oldest six of whom are saved.
---
The Coats Family
parents: Daryl and Victoria
children: Angelique (1/4/1983); Christopher (10/5/1986); Melody (11/9/1987); Patience (11/12/1992); Daniel (7/15/1994); Michael (9/11/1986); and Mary (10/7/2000)
---
My wife and my children are essential parts of my ministry, and I'm thankful for family members who have willingly helped with public ministry, nursing-home ministry, prison ministry, the Soldiers in Training ministry, and other service opportunities that the Lord has provided here in the U.S. We look forward to serving God as He directs in Finland.
---
"... much study is a weariness of the flesh"
Most of my life has been spent in an academic setting. As a student, I received twelve years of "primary" and "secondary" education in Mississippi, Georgia, Colorado, and Turkey, as well as two earned degrees from the University of Southern Mississippi (B.A., summa cum laude, and M.A.), a year's worth of "graduate studies" at Southern Baptist Theological Seminary (Louisville, Kentucky), and a Ph.D. from the University of Mississippi. As an educator I have 6 years of experience as a college instructor, 13 years of experience as a college professor, and almost 4½ years of experience as an instructor for the Mississippi Department of Corrections. Although thankful for the learning opportunities that God provided me, I put no more stock in my education and "academic achievements" than Paul put in his pre-salvation accomplishments, and I acknowledge freely that only God's grace has allowed me to "achieve" what I have.
---
"Lord, what wilt thou have me to do?"
I've known since the late 1960s that God wanted me to tell others about Jesus Christ and to teach folks what the Bible says. Since the late 1970s I've known that the Lord wanted me to serve Him in another country in a "missionary capacity" (but it has only been recently that I understood which country He had in mind). As a student, as a college professor, and as an educator in the Mississippi Department of Corrections, I have tried for nearly three decades to serve the Lord in Kentucky, Mississippi, Wyoming, and Louisiana. During that time, God gave me a ministry that included:
preaching (in the streets, at housing projects; in nursing homes and prisons; even in church assemblies for revival meetings, Bible conferences, and "pulpit supply")
teaching (Sunday school classes for adults and teenagers; "vacation Bible school" classes for children; Bible classes for adults; Bible conferences and "special meetings"; and homeschooling our children)
writing (tracts, a newsletter, booklets, and an occasional book; ministering through the mail); and music.
---
"Speak, LORD: for thy servant heareth"
While driving home from work in May 2000, I heard a radio broadcast about May Day celebrations in Finland. My heart was broken by what I heard, and I began trying to find missionaries to that nation that I could pray for and encourage. I eventually discovered that only one missionary family ministers in Finland—and because that family also ministers for part of each year in Russia, there is no full-time Bible-believing outreach in Finland.
Try to imagine a country of more than 5 million people in which there is not a single Bible-believing, fundamental, doctrinally-sound church—a country in which Muslims outnumber ecumenical Baptists four-to-one, Jehovah's Witnesses outnumber ecumenical Baptists seven to one, and Pentecostals outnumber ecumenical Baptists twenty to one. Try to imagine a country in which the true words of God are almost impossible to find, even in its churches. Such a country is Finland!
---
"Here am I. Send me."
After much prayer, my family and I determined that Finland was the nation in which God would have us serve, and in 2004 I resigned my position with the Mississippi Department of Corrections so that we could devote ourselves full time to deputation and to preparing ourselves to minister in Finland.
---
"Brethren, pray for us"
My family and I gratefully appreciate any and all prayers offered on our behalf, as well as opportunities to present our ministry and the spiritual needs of Finland. We would certainly count it a blessing to meet you and your congregation as we seek to serve the Lord Jesus Christ in Finland. Thank you.
---
"Looking for that blessed hope,"
Daryl Coats (Titus 2:11-14)
Keskutie 18, 03850 Pusula, Finland (phone: 358-040-3688035)
---
Sending Church
Pleasant Ridge Baptist Church, P.O. Box 1071, Laurel, MS 39441
Note: We are going out under the authority of our local church and not under the auspices of a "missions board."
---
Messages by Brother Daryl R. Coats
Hard Hearts: The Cause And The Cure ... a message by Brother Daryl R. Coats

She Judged Him Faithful ... a message by Brother Daryl R. Coats

Some Litle Known Historic Positions ... a message by Brother Daryl R. Coats

The Greatest Of These Is Charity ... a message by Brother Daryl R. Coats

The Thought Of Foolishness ... a message by Brother Daryl R. Coats

Straining At Brass ... a message by Brother Daryl R. Coats

Enoch Also ... a message by Brother Daryl R. Coats

How To Listen To A Sermon ... a message by Brother Daryl R. Coats

Thomas Tenison ... an early defender of the King James Bible ... a message by Brother Daryl R. Coats

Straining At Gnats ... a message by Brother Daryl R. Coats

The Whore's Sorceries ... a message by Brother Daryl R. Coats

A Father's Influence ... a message by Brother Daryl R. Coats

Marvel Not, My Brethren, If The World Hate You ... a message by Brother Daryl R. Coats

Neither Give Heed To Fables ... a message by Brother Daryl R. Coats

The Testimony of Dan Brown (author of The Da Vinci Code) ... a message by Brother Daryl R. Coats

New King James Version Nonsence ... a message by Brother Daryl R. Coats

The Two Lies ... a message by Brother Daryl R. Coats ... a message by Brother Daryl R. Coats

Sophomoric ... a message by Brother Daryl R. Coats ... a message by Brother Daryl R. Coats

Patience and Impatience ... a message by Brother Daryl R. Coats

---
Psalm 12 ... is the promise to us!
Purified seven times ... God's word is kept in spite of men!
Help, Lord; for the godly man ceaseth; for the faithful fail from among the children of men.
[Verse 1]
They speak vanity every one with his neighbour: with flattering lips and with a double heart do they speak. [Verse 2]
The Lord shall cut off all flattering lips, and the tongue that speaketh proud things: [Verse 3]
Who have said, With our tongue will we prevail; our lips are our own: who is lord over us? [Verse 4]
For the oppression of the poor, for the sighing of the needy, now will I arise, saith the Lord; I will set him in safety from him that puffeth at him. [Verse 5]
The words of the Lord are pure words: as silver tried in a furnace of earth, purified seven times. [Verse 6]
Thou shalt keep them, O Lord, thou shalt preserve them from this generation for ever. [Verse 7]
The wicked walk on every side, when the vilest men are exalted. [Verse 8]