The Three Kinds Of People
"The heart is deceitful above all things, and desperately wicked: who can know it." [Jeremiah 17:9]
King James Bible Study - Help in the Time of Need
The Issue:
The Basic Truths Of Life!
TRUTHS
Everyone that ever walked on this planet must come to terms in this life with some basic TRUTHS. These will be the basic truths that no one can argue with, if they are sane. Of course, if you believe what God says in His Own BOOK about you, then you will have no problem with accepting these basic truths.
1. The Brevity Of Life
"For what is your life? It is even a vapour, that appeareth for a little time, and then vanisheth away." (James 4:14b) Our life is brief! like a vapor, or like smoke. "Is there not an appointed time to man upon earth? are not his days also like the days of an hireling?" (Job 7:1) He is born, and then he will die! This is certain! (The exception being Enoch and Elijah, and also, those believers in Jesus Christ who are alive when He comes for His Church.)
2. The Brevity Of Your Remembrance
You will soon be forgotten. A man is remembered only a little while, and then he is forgotten. "He shall return no more to his house, neither shall his place know him anymore. Are not my days few? cease then, and let me alone, that I may take comfort a little, Before I go whence I shall not return, even to the land of darkness and the shadow of death; A land of darkness, as darkness itself; and of the shadow of death, without any order, and where the light is as darkness." (Job 7:10 & 10:20-22)
3. The Sureness Of Trouble
Life is bale full of troubles. I have also found this very true!!! "Man that is born of a woman is of few days, and full of trouble. He cometh forth like a flower, and is cut down: he fleeth also as a shadow, and continueth not." (Job 14:1).
4. The Verity Of The White Throne Judgment
"And as it is appointed unto men once to die, but after this the judgment" (Hebrews 9:27). You will not miss this one unless YOU ARE HID in the CLEFT OF THE ROCK!
5. The Eternality And The Finality Of What You Do With Jesus Christ:
We will all be held accountable over this issue. It is a hard fact of life, my friend. Now will you take God's offer of eternal life ... purchased by His Son ... for all those who will put their trust in Him ... a thumbs down? You will everlastingly suffer the consequences!
6. That Men Never Learn From History
We learn from History That Men Never Learn From History! It is a heart problem! Men refuse to learn the "lessons" afforded by the light of HISTORY: the recorded historical events which occurred as fulfillment of Bible prophecy. Now, these are the basic truths with which we all must deal with one way or another!
7. What Should You Do?
"But what saith it? The word is nigh thee, even in thy mouth, and in thy heart: that is, the word of faith, which we preach;
That if thou shalt confess with thy mouth the Lord Jesus, and shalt believe in thine heart that God hath raised him from the dead, thou shalt be saved.
For with the heart man believeth unto righteousness; and with the mouth confession is made unto salvation.
For the scripture saith, Whosoever believeth on him shall not be ashamed.
For there is no difference between the Jew and the Greek: for the same Lord over all is rich unto all that call upon him.
For whosoever shall call upon the name of the Lord shall be saved"; [Romans 10:8-13]
THE BIBLE :
Believe The BOOK!
The King James Bible
This is God's Holy WORD to you and I! Do you believe it? The A.V.1611 (or The King James Bible) is God's word PRESERVED in the English language for you and me. It came from the English Reformation. This Bible declares that: "All scripture is given by inspiration of God, and is profitable for doctrine, for reproof, for correction, for instruction in righteousness." [2 Timothy 3:16] God's inspired word is preserved in the A.V.1611. The word "preserved" means maintained inspiration. "The words of the LORD are pure words: as silver tried in the furnace of earth, purified seven times. Thou shalt keep them, O LORD, thou shalt preserve them from this generation for ever." [Psalm 12:6-7] "PRESERVE." .
Home In The Hills:
[Or New Jerusalem]
LONG HOME
Everybody is going home someday. Everybody is going to their LONG HOME. When you die, you are going to go to your "long home" whether, it be in "Heaven" or in "Hell". Do you realize that truth? "Also when they shall be afraid of that which is high, and fears shall be in the way, and the almond tree shall flourish, and the grasshopper shall be a burden, and desire shall fail: because man goeth to his long home, and the mourners go about the streets:" [Ecclesiastes 12:5]. Read More?
The Three Kinds Of People
Old Paths Baptist Mission © 2011 Richard St.James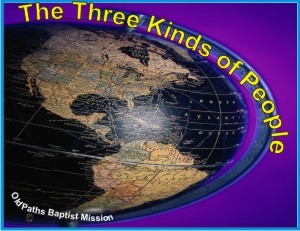 ---
Who Will Come?
"And every one that was in distress, and every one that was in debt, and every one that was discontented, gathered themselves unto him, and he became a captain over them…"
[I Samuel 22:2]
In this verse is shown a truth. David is given here as a type of Jesus Christ. The Spirit of God has carefully revealed to us, if we will
LISTEN
, that there are only three kinds of people in the world that will ever sense the drawing to Jesus Christ to receive God's so great salvation. [Hebrews 2]
---
Those That Are In Distress
The first kind of people who will gather to Jesus Christ are they who are in distress. The fears of the unknown, the fears of being alone, and the stress of the "fast lane" of this life will wear them down. Their children going bad, their mates divorcing them, and the robbers breaking in, have finally and completely gotten to them. They are the ones who are totally "stuck in the mire" of trouble, and furthermore have no disposition of heart to seek relief from all these troubles by the cures offered by this world.
---
Those That Are In Debt
The second kind of people who will gather themselves to Jesus Christ are those who are in debt. They are "down and outers" who tried to "drink in" all of this world's material possessions, and "got in over their heads" in hock, and came to "the end of themselves." So much for trying to make it big! All who have gotten themselves in a huge financial flopping mess with the big time loans! In the "sea of debt", they almost come to themselves in realizing; "Hey! I have done it all! Whatever there is to be done under the sun, I have done it all, and for what? I am drowning in fear of my own miserable debt, for I only see looming before my eyes the bill collectors, and the
BANKRUPTCY COURT
."
---
Those That Are Discontent
The third kind of people who will haply feel the drawing of Jesus Christ, and prone to gathering to him are those who are discontent with life. They are disinterested with what the world has to offer. All the world's allurements are to them just so much HO-HUM. The person who is discontent is plainly looking for something better than just eating, drinking and being merry. They are bored with it all!
It is these three kinds of people that will be the ready ground for the seed of the Gospel of Jesus Christ. These hearts are "ready hearts" [prepared by the work of the Holy Ghost in reproving of sin and of righteousness], and are ready for the
PLANTING
of the engrafted written word of God. John 3:16 becomes a sweet song them.
"For God so loved the world, that he gave his only begotten Son, that whosoever believeth in him should not perish, but have everlasting life."

The drawing power of the Son of God is felt so strongly by these three kinds of folk that when they hear his "open invitation" to come to him:
THEY COME
!


"Come unto me, all ye labour and are heavy laden, and I will give you rest. Take my yoke upon you, and learn of me; for I am meek and lowly in heart: and ye shall find rest unto your souls."
[Matthew 11:28-29]
The Spirit of God sweetly says to them:
"Behold, I stand at the door, and knock: if any man open the door, I will come in to him, and will sup with him, and he with me."
They
"hear"
and with repentance experienced … they open the door of their hearts to receive Jesus Christ as their
LORD
and
SAVIOR
. In an instant of time, faster than the twinkling of an eye, the Holy Ghost makes the transaction.
Quickened … Made Alive … Born Again … Saved by the blood [from the wrath of God]… Raised … To
SIT
in heavenly places
IN CHRIST
. Written in the Lamb of God's book of
LIFE
, they become
A NEW CREATURE
[II Corinthians 5:17] … an
ADOPTED SO
N of God!


"Who hath delivered us from the power of darkness, and hath translated us into the kingdom of his dear Son."
[Colossians 1:13]
Amen!
Go to:
The Two Ways!
Psalm 12 ... is the promise to us!
Purified seven times ... God's word is kept in spite of men!
Help, Lord; for the godly man ceaseth; for the faithful fail from among the children of men.
[Verse 1]
They speak vanity every one with his neighbour: with flattering lips and with a double heart do they speak. [Verse 2]
The Lord shall cut off all flattering lips, and the tongue that speaketh proud things: [Verse 3]
Who have said, With our tongue will we prevail; our lips are our own: who is lord over us? [Verse 4]
For the oppression of the poor, for the sighing of the needy, now will I arise, saith the Lord; I will set him in safety from him that puffeth at him. [Verse 5]
The words of the Lord are pure words: as silver tried in a furnace of earth, purified seven times. [Verse 6]
Thou shalt keep them, O Lord, thou shalt preserve them from this generation for ever. [Verse 7]
The wicked walk on every side, when the vilest men are exalted. [Verse 8]