The Memory of Our Fathers
And surely no nation had ever less occasion to be ashamed of its ancestry, or more occasion for gratulation in that respect; for while most nations trace their origin to barbarians, the foundations of our nation were laid by civilized men, by Christians.
King James Bible Study - Help in the Time of Need
The Issue:
The Basic Truths Of Life!
TRUTHS
Everyone that ever walked on this planet must come to terms in this life with some basic TRUTHS. These will be the basic truths that no one can argue with, if they are sane. Of course, if you believe what God says in His Own BOOK about you, then you will have no problem with accepting these basic truths.
1. The Brevity Of Life
"For what is your life? It is even a vapour, that appeareth for a little time, and then vanisheth away." (James 4:14b) Our life is brief! like a vapor, or like smoke. "Is there not an appointed time to man upon earth? are not his days also like the days of an hireling?" (Job 7:1) He is born, and then he will die! This is certain! (The exception being Enoch and Elijah, and also, those believers in Jesus Christ who are alive when He comes for His Church.)
2. The Brevity Of Your Remembrance
You will soon be forgotten. A man is remembered only a little while, and then he is forgotten. "He shall return no more to his house, neither shall his place know him anymore. Are not my days few? cease then, and let me alone, that I may take comfort a little, Before I go whence I shall not return, even to the land of darkness and the shadow of death; A land of darkness, as darkness itself; and of the shadow of death, without any order, and where the light is as darkness." (Job 7:10 & 10:20-22)
3. The Sureness Of Trouble
Life is bale full of troubles. I have also found this very true!!! "Man that is born of a woman is of few days, and full of trouble. He cometh forth like a flower, and is cut down: he fleeth also as a shadow, and continueth not." (Job 14:1).
4. The Verity Of The White Throne Judgment
"And as it is appointed unto men once to die, but after this the judgment" (Hebrews 9:27). You will not miss this one unless YOU ARE HID in the CLEFT OF THE ROCK!
5. The Eternality And The Finality Of What You Do With Jesus Christ:
We will all be held accountable over this issue. It is a hard fact of life, my friend. Now will you take God's offer of eternal life ... purchased by His Son ... for all those who will put their trust in Him ... a thumbs down? You will everlastingly suffer the consequences!
6. That Men Never Learn From History
We learn from History That Men Never Learn From History! It is a heart problem! Men refuse to learn the "lessons" afforded by the light of HISTORY: the recorded historical events which occurred as fulfillment of Bible prophecy. Now, these are the basic truths with which we all must deal with one way or another!
7. What Should You Do?
"But what saith it? The word is nigh thee, even in thy mouth, and in thy heart: that is, the word of faith, which we preach;
That if thou shalt confess with thy mouth the Lord Jesus, and shalt believe in thine heart that God hath raised him from the dead, thou shalt be saved.
For with the heart man believeth unto righteousness; and with the mouth confession is made unto salvation.
For the scripture saith, Whosoever believeth on him shall not be ashamed.
For there is no difference between the Jew and the Greek: for the same Lord over all is rich unto all that call upon him.
For whosoever shall call upon the name of the Lord shall be saved"; [Romans 10:8-13]
THE BIBLE :
Believe The BOOK!
The King James Bible
This is God's Holy WORD to you and I! Do you believe it? The A.V.1611 (or The King James Bible) is God's word PRESERVED in the English language for you and me. It came from the English Reformation. This Bible declares that: "All scripture is given by inspiration of God, and is profitable for doctrine, for reproof, for correction, for instruction in righteousness." [2 Timothy 3:16] God's inspired word is preserved in the A.V.1611. The word "preserved" means maintained inspiration. "The words of the LORD are pure words: as silver tried in the furnace of earth, purified seven times. Thou shalt keep them, O LORD, thou shalt preserve them from this generation for ever." [Psalm 12:6-7] "PRESERVE." .
Home In The Hills:
[Or New Jerusalem]
LONG HOME
Everybody is going home someday. Everybody is going to their LONG HOME. When you die, you are going to go to your "long home" whether, it be in "Heaven" or in "Hell". Do you realize that truth? "Also when they shall be afraid of that which is high, and fears shall be in the way, and the almond tree shall flourish, and the grasshopper shall be a burden, and desire shall fail: because man goeth to his long home, and the mourners go about the streets:" [Ecclesiastes 12:5]. Read More?
THE MEMORY OF OUR FATHERS
Lyman Beecher, 1775-1863, a famous Congregational minister wrote the following:
THE MEMORY OF OUR FATHERS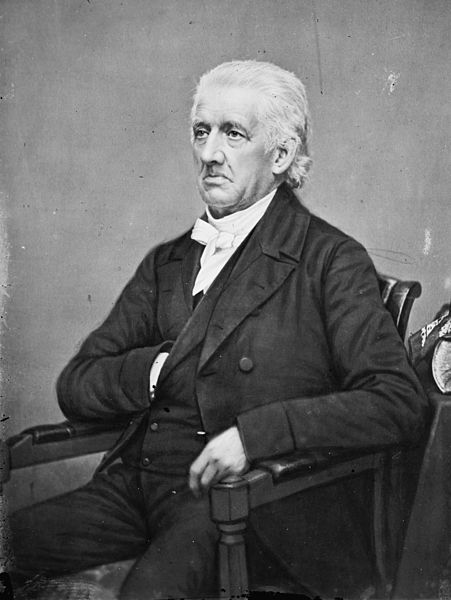 We are called upon to cherish with high veneration and grateful recollections, the memory of our fathers. Both the ties of nature and the dictates of policy demand this. And surely no nation had ever less occasion to be ashamed of its ancestry, or more occasion for gratulation in that respect; for while most nations trace their origin to barbarians, the foundations of our nation were laid by civilized men, by Christians. Many of them were men of distinguished families, of powerful talents, of great learning and of preeminent wisdom, of decision of character, and of most inflexible integrity. And yet not unfrequently they have been treated as if they had no virtues; while their sins and follies have been sedulously immortalized in satirical anecdote.
The influence of such treatment of our fathers is too manifest. It creates and lets loose upon their institutions, the vandal spirit of innovation and overthrow; for after the memory of our fathers shall have been rendered contemptible, who will appreciate and sustain their institutions? "The memory of our fathers" should be the watchword of liberty throughout the land; for, imperfect as they were, the world before had not seen their like, nor will it soon, we fear, behold their like again. Such models of moral excellence, such apostles of civil and religious liberty, such shades of the illustrious dead looking down upon their descendants with approbation or reproof, according as they follow or depart from the good way, constitute a censorship inferior only to the eye of God; and to ridicule them is national suicide.
The doctrines of our fathers have been represented as gloomy, superstitious, severe, irrational, and of a licentious tendency. But when other systems shall have produced a piety as devoted, a morality as pure, a patriotism as disinterested, and a state of society as happy, as have prevailed where their doctrines have been most prevalent, it may be in season to seed an answer to this objection.
The persecutions instituted by our fathers have been the occasion of ceaseless obloquy upon their fair fame. And truly, it was a fault of no ordinary magnitude, that sometimes they did persecute. But let him whose ancestors were not ten times more guilty, cast the first stone, and the ashes of our fathers will no more be disturbed. Theirs was the fault of the age, and it will be easy to show that no class of men had, at that time, approximated so nearly to just apprehensions of religious liberty; and that it is to them that the world is indebted for the more just and definite views which now prevail.
The superstition and bigotry of our fathers are themes on which some of their descendants, themselves far enough from superstition, if not from bigotry, have delighted to dwell. But when we look abroad, and behold the condition of the world, compared with the condition of New England, we may justly exclaim, "Would to God that the ancestors of all the nations had been not only almost, but altogether such bigots as our fathers were."
---
Men Never Learn From History!
It is a heart problem!
Men refuse to learn the "lessons" afforded by the light of HISTORY:
the recorded historical events which occurred as fulfillment of Bible prophecy. Now, these are the basic truths with which we all must deal with one way or another!
Two Basic Reasons For Our Failing Our History Lesson!
The Removing Of The Anchoring Landmarks
We have steadily almost imperceptibly at times removed one by one the great principles that were part of the formulation of the United States of America.
We have been busy for generations removing the anchoring landmarks that came as a result of the revivals God blessed this country with in its early years by the preaching of the word of GOD.
We have disobeyed the commandment in Proverbs 22:28- "Remove not the ancient landmark which thy fathers have set."
The Departure from the BIBLE
What was the catalyst or reason for this downward spiral? Are you ready! The eyes of men everywhere had been clouded over with cataracts because of our apostasy or departure from the
BIBLE
… God's word (and more exactly including the multiplicity of translations and corruption's to God's written word).
This apostasy began in America in the
BIBLE SCHOOLS
early in the last century (1901) when Philip Schaff (with other rank liberals who had rot-gut unbelief in God's word within their hearts) colluded with the English RV committee of 1885 (Westcott and Hort) to produce the American Standard Version (ASV), also known as "the Rock of Bible Honesty" by the scholars, or more accurately, by Bible believers, as a prime example of a new age version of a corrupted bible.
---
Baptist's Heritage
It is to the Baptist's ... that we owe primarily ... our religious freedom, and it is Roger Williams [of Rhode Island] in particular, that is the most important contributor of our religious freedom we enjoy in the United States of America.
The Bloody Tenet of Persecution for Cause of Conscience is the primary document, which provided the underlying principals for religious freedom, which in turn gave rise to the then future documents of The Declaration of Independence, The United States Constitution and The Bill Of Rights.