The Wiles Of The Devil
"Put on the whole armour of God, that ye may be able to stand against the wiles of the devil."
King James Bible Study - Help in the Time of Need
The Issue:
The Basic Truths Of Life!
TRUTHS
Everyone that ever walked on this planet must come to terms in this life with some basic TRUTHS. These will be the basic truths that no one can argue with, if they are sane. Of course, if you believe what God says in His Own BOOK about you, then you will have no problem with accepting these basic truths.
1. The Brevity Of Life
"For what is your life? It is even a vapour, that appeareth for a little time, and then vanisheth away." (James 4:14b) Our life is brief! like a vapor, or like smoke. "Is there not an appointed time to man upon earth? are not his days also like the days of an hireling?" (Job 7:1) He is born, and then he will die! This is certain! (The exception being Enoch and Elijah, and also, those believers in Jesus Christ who are alive when He comes for His Church.)
2. The Brevity Of Your Remembrance
You will soon be forgotten. A man is remembered only a little while, and then he is forgotten. "He shall return no more to his house, neither shall his place know him anymore. Are not my days few? cease then, and let me alone, that I may take comfort a little, Before I go whence I shall not return, even to the land of darkness and the shadow of death; A land of darkness, as darkness itself; and of the shadow of death, without any order, and where the light is as darkness." (Job 7:10 & 10:20-22)
3. The Sureness Of Trouble
Life is bale full of troubles. I have also found this very true!!! "Man that is born of a woman is of few days, and full of trouble. He cometh forth like a flower, and is cut down: he fleeth also as a shadow, and continueth not." (Job 14:1).
4. The Verity Of The White Throne Judgment
"And as it is appointed unto men once to die, but after this the judgment" (Hebrews 9:27). You will not miss this one unless YOU ARE HID in the CLEFT OF THE ROCK!
5. The Eternality And The Finality Of What You Do With Jesus Christ:
We will all be held accountable over this issue. It is a hard fact of life, my friend. Now will you take God's offer of eternal life ... purchased by His Son ... for all those who will put their trust in Him ... a thumbs down? You will everlastingly suffer the consequences!
6. That Men Never Learn From History
We learn from History That Men Never Learn From History! It is a heart problem! Men refuse to learn the "lessons" afforded by the light of HISTORY: the recorded historical events which occurred as fulfillment of Bible prophecy. Now, these are the basic truths with which we all must deal with one way or another!
7. What Should You Do?
"But what saith it? The word is nigh thee, even in thy mouth, and in thy heart: that is, the word of faith, which we preach;
That if thou shalt confess with thy mouth the Lord Jesus, and shalt believe in thine heart that God hath raised him from the dead, thou shalt be saved.
For with the heart man believeth unto righteousness; and with the mouth confession is made unto salvation.
For the scripture saith, Whosoever believeth on him shall not be ashamed.
For there is no difference between the Jew and the Greek: for the same Lord over all is rich unto all that call upon him.
For whosoever shall call upon the name of the Lord shall be saved"; [Romans 10:8-13]
THE BIBLE :
Believe The BOOK!
The King James Bible
This is God's Holy WORD to you and I! Do you believe it? The A.V.1611 (or The King James Bible) is God's word PRESERVED in the English language for you and me. It came from the English Reformation. This Bible declares that: "All scripture is given by inspiration of God, and is profitable for doctrine, for reproof, for correction, for instruction in righteousness." [2 Timothy 3:16] God's inspired word is preserved in the A.V.1611. The word "preserved" means maintained inspiration. "The words of the LORD are pure words: as silver tried in the furnace of earth, purified seven times. Thou shalt keep them, O LORD, thou shalt preserve them from this generation for ever." [Psalm 12:6-7] "PRESERVE." .
Home In The Hills:
[Or New Jerusalem]
LONG HOME
Everybody is going home someday. Everybody is going to their LONG HOME. When you die, you are going to go to your "long home" whether, it be in "Heaven" or in "Hell". Do you realize that truth? "Also when they shall be afraid of that which is high, and fears shall be in the way, and the almond tree shall flourish, and the grasshopper shall be a burden, and desire shall fail: because man goeth to his long home, and the mourners go about the streets:" [Ecclesiastes 12:5]. Read More?
The Wiles Of The Devil
Old Paths Baptist Mission © 2011 Richard St.James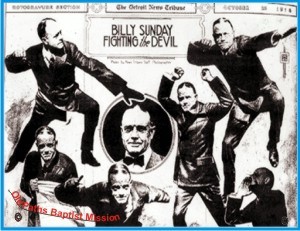 ---
The
DEVIL
is an old sly fox, who by insidious artifice, will "go for your throat" all the while feigning a friendship with you. We must put on the
ARMOUR
of God.
"Put on the whole armour of God, that ye may be able to stand against the wiles of the devil."
[Ephesians 6:11]
Beware of the
WILES
of the Devil! If we are to successfully
STAND
against the wiles of the Devil, we must become wise to what these wiles are (which leads us to this question).
What is the meaning of this so-called archaic King James Bible word:
WILES
? It is not an
ARCHAIC
word, my friend! It actually is a very precision up-to-date term used by the Spirit of God! These wiles are tricks performed for some stratagem. These wiles are meant to ensnare its intended victim.
The Devil does not play by the rules. Every method is legal to "the rulers of the darkness of this world" in this spiritual war to subdue the believer in Jesus Christ, and make him of non-effect. The
DEVIL
is an old sly fox, who by insidious artifice, will "go for your throat" all the while feigning a friendship with you. That is how Satan works! That is how he operates!
He will do anything to beguile you. He will do anything to fool you. He will do anything to deceive you. This means he will lie to you. While you are here sojourning in this old world, he doesn't want to see you amount to anything in life, (not even so much as a plug nickel) for the
LORD
Jesus Christ. We wants to see you sitting on the shelf, collecting dust, and totally
UNUSED
. He wants you to be the salt … that has lost its flavor.
Our leader in this war is our
CAPTAIN
.
"And, behold, God himself is with us for our captain …"
[2 Chronicles 13:12a]. Our God is Jesus …
WHO
is our
CAPTAIN
!
"For it became him, for whom are all things, and by whom all things, in bringing many sons unto glory, to make the captain of their salvation perfect through sufferings."
[Hebrews 2:10]
We have our orders … from our captain! God wants the believer in His Son to be conformed to the image of his Son.
"For whom he did foreknow, he also did predestinate to be conformed to the image of his Son, that he might be firstborn among many brethren."
[Romans 8:29]
If you are in Christ, my friend, then you and I are beholding the glory of the Lord, … and are being
CHANGED
or
CONFORMED
to Christ's image! Amen!
"But we all, with open face beholding as in a glass the glory of the Lord, are changed into the same glory to glory, even as by the Spirit of the Lord."
[2 Corinthians 3:18] Our
ORDERS
, therefore … are these.
Number One!
We are not to be
CONFORMED
to this world.
"And be not conformed to this world: but be ye transformed by the renewing of your mind, that ye may prove what is that good, and acceptable, and perfect, will of God."
[Romans 12:2] We need to
PROVE
all things. We need to
TRY
all
"the spirits whether they are of God."
(I John 4:1)
Here is a principle: "The Bible-believing Christian needs to determine the spirit of the age in a particular matter, and with deliberate action, strike out in the opposite direction in that particular matter!"
Number Two!
We are not to love the world, nor the things of this world.
"Love not the world, neither the things of this world. If any man love the world, the love of the Father is not in him."
[1 John 2:15]
Why are we not to love this world? Why does the Spirit of God state so clearly that the Bible believer is not to love this world system? In John seventeen we see why; Jesus is praying to the Father (in verse 14).
"I have given them thy word; and the world hath hated them, because they are not of the world, even as I am not of the world."
In verse 16, Jesus says it again:
"They are not of the world, even as I am not of the world."
Then whose world is this? Who owns the world system? The Bible has this answer: The "god of this world" is the Devil.
"In whom the god of this world hath blinded the minds of them which believe not, lest the light of the glorious gospel of Christ, who is the image of God, should shine unto them."
[2 Corinthians 4:4] It is sad to see so many who profess Christ as their Lord and Savior kissing it up with the world.
The Apostle Paul by the Holy Ghost said this of Demas.
"For Demas hath forsaken me, having loved this present world, and is departed unto Thessalonica."
[2 Timothy 4:10a] Remember, brethren, Jesus died for our sins to deliver us from this present evil world.
"Who gave himself for our sins, that he might deliver us from this present evil world, according to the will of God and our Father."
(Galatians 1:4) Before the moment we got saved by the
BLOOD
, we already had wasted enough time "running" according to the
"course of this world."
[Ephesians 2:2] [1 Peter 4:1-4]
We need to come out of it (separate) yet not altogether "out of it", so we can
WITNESS
to those who belong to it.
"I pray not that thou shouldest take them out of the world, but that thou shouldest keep them from the evil."
[John 17:15]
Number Three!
We are not to be friends with this world.
"Ye adulterers and adulteresses, know ye not that friendship of the world is enmity with God? Whosoever therefore will be a friend of the world is the enemy of God."
[James 4:4] (I am not stating this of myself. I am giving you this straight down the line.)
We are just sojourners, and are just said to be passing through … as pilgrims … on pilgrimage to their holy city.
"And I John saw the holy city, new Jerusalem, coming down from God out of heaven, prepared as a bride adorned for her husband."
(Revelation 21:2)
"For here we have no continuing city."
[Hebrews 13:14]
We cannot afford to be secretly seeking friendship with this world system. An old preacher once said this "Reject anything and everything that makes you indisposed to press on the narrow way. Treat it as a mortal enemy!"
So we must fight!
Go to:
Wrestling With The Devil
Psalm 12 ... is the promise to us!
Purified seven times ... God's word is kept in spite of men!
Help, Lord; for the godly man ceaseth; for the faithful fail from among the children of men.
[Verse 1]
They speak vanity every one with his neighbour: with flattering lips and with a double heart do they speak. [Verse 2]
The Lord shall cut off all flattering lips, and the tongue that speaketh proud things: [Verse 3]
Who have said, With our tongue will we prevail; our lips are our own: who is lord over us? [Verse 4]
For the oppression of the poor, for the sighing of the needy, now will I arise, saith the Lord; I will set him in safety from him that puffeth at him. [Verse 5]
The words of the Lord are pure words: as silver tried in a furnace of earth, purified seven times. [Verse 6]
Thou shalt keep them, O Lord, thou shalt preserve them from this generation for ever. [Verse 7]
The wicked walk on every side, when the vilest men are exalted. [Verse 8]