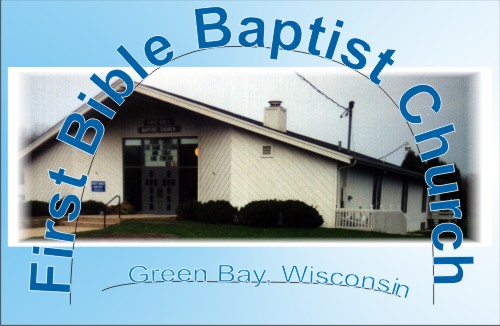 First Bible Baptist Church
---
2605 S. Libal
Green Bay, Wisconsin
---
WELCOME

First Bible Baptist Church believes that God's word provides the only solid foundation on which to build your life. That is why we make no apology for teaching and preaching the Bible. Our heart-felt prayer is for you to know Christ as your personal Savior and be involved in a church home that cares for you, and in which you can grow to be more like Christ and serve Him faithfully.

The families here have discovered the joy of being part of a friendly Bible-believing church that works hard to meet the needs of every age group.

We believe God has a purpose for every individual and we extend an invitation for you to come and be a part of First Bible Baptist Church!

Till HE Comes,

Pastor Harley Keck

P.S. For anyone who needs a ride to church, adult or child, we have a BUS MINISTRY, and would be happy to pick you up for services!
First Bible Baptist Church
First Bible Baptist Church is a Baptist church by conviction and principle, not by affiliation.
This means that we believe the basic Bible teachings for which Baptists have historically stood. As Baptists, we believe the following: the Bible is our sole authority for all matters of faith and practice.
Our Service Times
Sunday 9:30am • Sunday School
Sunday 10:30am • Morning Worship Service
Sunday 7:00pm • Evening Worship Service
Wednesday 7:00pm • Prayer Meeting
Harley Keck Preaching / Teaching
MP3 Audio Streaming