Sluice Box Adventures
Believing Bible Study in the 21st century
HE UNKNOWN GOD [The Mystery of God]
King James Bible Study ... learn The Bible ... receive Help in the time of need!
1 Thessalonians 2:13 "For this cause also thank we God without ceasing, because, when ye received the word of God which ye heard of us, ye received it not as the word of men, but as it is in truth, the word of God, which effectually worketh also in you that believe."
---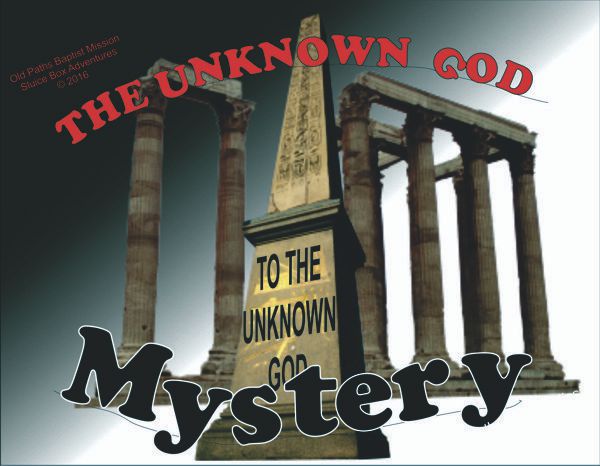 ---
THE UNKNOWN GOD [The Mystery of God]
Old Paths Baptist Mission © 2016 Richard St.James
---
The God of the Bible is an UNKNOWN GOD today in the 21st century United States of America.
We [as the children of Israel were in Ezekiel's day – Ezekiel 2:4] "are impudent children and stiffhearted" toward God.
This condition of stiff heartedness has proved fatal to the United States of America.
In this message I will declare this UNKNOWN GOD to you.
---
1. A Good Confession - 2. There Is None Else - 3. The Appearance of God - 4. The True God
The true God has had no beginning, and the true God has no end. Further, the true God has not evolved from one level of being to another level of being. The true God is the I AM:
"And God said unto Moses, I AM THAT I AM: and he said, Thus shalt thou say unto the children of Israel, I AM hath sent me unto you." [Exodus 3:14]
Therefore, the true God is infinite … boundless … and is outside of the bounds of time!
---
There are those [the scholars] who will corrupt the word of GOD in order to attack the deity of Jesus Christ.
They were there in Paul's day, and they are still here today.
We ought rather to be, what it says here in the word of God:
"For we are not as many, which corrupt the word of God: but as of sincerity, but as of God, in the sight of God speak we in Christ." [2 Corinthians 2:17]
---
Even man [as originally created in the image of God] is comprised of three parts: soul, body, and spirit, three in one:
"And the very God of peace sanctify you wholly; and I pray God your whole spirit and soul and body be preserved blameless unto the coming of our Lord Jesus Christ." [1 Thessalonians 5:23]
---
THE UNKNOWN GOD [The Mystery of God]
Top