Sluice Box Adventures
Believing Bible Study in the 21st century
Traveling
Psalms 12:6-7 "The words of the LORD are pure words: as silver tried in a furnace of earth, purified seven times. Thou shalt keep them, O LORD, thou shalt preserve them from this generation for ever."
1 Thessalonians 2:13 "For this cause also thank we God without ceasing, because, when ye received the word of God which ye heard of us, ye received it not as the word of men, but as it is in truth, the word of God, which effectually worketh also in you that believe."
---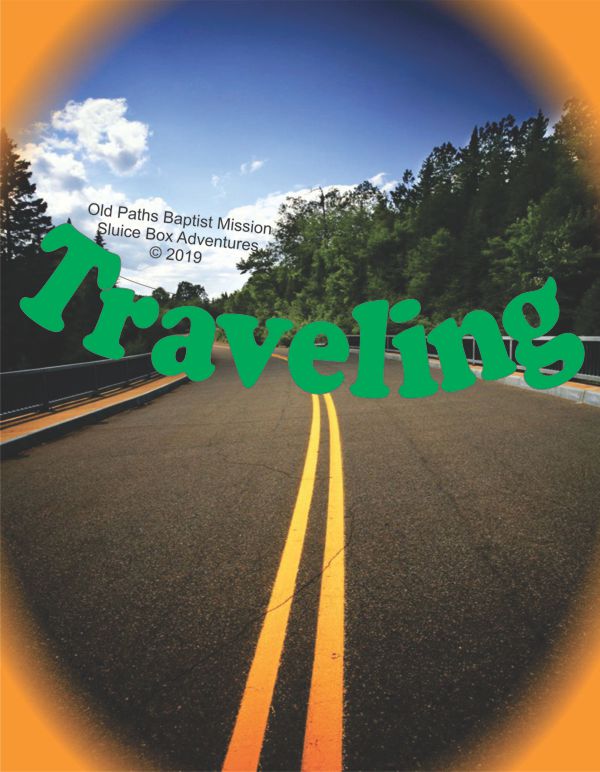 T

raveling

Old Paths Baptist Mission © 2018 Richard St.James
---
Now, if we are alive, and on this earth, it can be said of us that we are on a journey.
This journey has a beginning somewhere and this journey will end up somewhere.
We all leave our home and go on a long journey.
---
Therefore, when a man decides to live by bread alone without God, and without God's words, he falls prey to the power of darkness [Colossians 1:13].
In other words, he makes himself vulnerable to the wiles of the Devil.
---
The men of this world are traveling on in their ways.
Is not that the truth?
We are all going somewhere.
We are moving!
We are in motion … till we die
---
3. The Sacrifice in Bozrah / 4. Mighty To Save

God will march in the wilderness of Sinai … in a day that yet is coming!
Now note this: Riding and marching involve traveling.
The LORD is traveling. He has an appointment to keep in Bozrah.
---
Traveling
1. Save Us
2. Traveling
3. The Sacrifice in Bozrah
4. Mighty to Save
Top