Sluice Box Adventures
Believing Bible Study in the 21st century
All About True Salvation - Jesus Christ Is The Lighthouse
"That was the true light, which lighteth every man that cometh into the world." [John 1:9]
1 Thessalonians 2:13 "For this cause also thank we God without ceasing, because, when ye received the word of God which ye heard of us, ye received it not as the word of men, but as it is in truth, the word of God, which effectually worketh also in you that believe."
---
Jesus Christ Is The Lighthouse
Old Paths Baptist Mission © 2011 Richard St.James
---
Jesus Christ is THE LIGHT!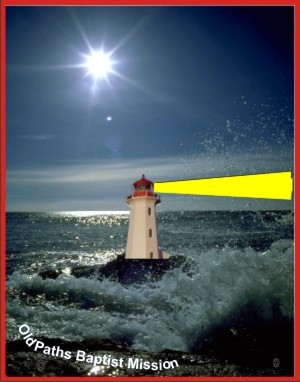 "In the beginning was the Word, and the Word was with God, and the Word was God. The same was in the beginning with God. All things were made by him; and without him was not any thing made that was made. In him was life; and the life was the light of men. And the light shineth in darkness; and the darkness comprehended it not"
[John 1:1-5].
The darkness comprehended it not! Adam's sin has darkened our eyes [passed from generation to generation]. We are as dead men walking around.


"Wherefore, as by one man sin entered into the world, and death by sin; and so death passed upon all men, for that all have sinned"
[Romans 5:12].
One day, Old
DEATH
will grab you by the shoulder for a little journey. Are you ready? What direction are you going, my friend? That
BOOK
[The
AV1611
] is God's word in the English language. You can count on it. Jesus Christ is
THE LIGHT
.
Jesus Christ came to this earth two thousand years ago so that men … like you and I … might believe. This was the witness of John the Baptist.
"The same came for a witness, to bear witness of the light, that all men through him might believe"
[John 1:7].
Every man and woman will have no excuse at the Great White Throne Judgment. Romans 1:20 makes that plain. Do you want to argue with God over the matter? Go ahead if you want to, but I will fear for you, my friend.
The very creation of the world which is understood
"by the things that are made, even his eternal power and Godhead"
renders man, so that he "is without excuse" concerning Jesus Christ being that light.
"That was the true Light, which lighteth every man that cometh into the world"
[John 1:9].
Every man has had that light, and every man has the responsibility about what he does, concerning
THAT LIGH
T. What will you do with Jesus Christ? That is the big question, and it is the most important question you and I will ever face in this life. Now, we have come to the chief issue and purpose of life, and to repeat: that the heart of every man and woman and child in the world who ever lived, or now lives, must deal with that number
ONE ISSUE
: What is to be done with
JESUS CHRIST
?
The requirement for you ... is to go through the narrow gate ... which is the Son of God. This will require you … to put your trust in the shed blood of the Lamb of God who was slain on Mt. Calvary almost two thousand years ago. This will require you … to put your trust in Him to save you from the wrath of God to be revealed at the end of this age. This will require you … to put your trust in Him to keep you from the eternal blackness and torment of Hell, which will be thrown in the Lake of Fire. [There will be no light from this fire!]
The Big Question is, Will you come to Jesus Christ,
THE SON OF GOD
, for the gift of eternal life? This is ...
THE SO GREAT SALVATION
... of Hebrews chapter two! Listen.
There is no other way to be saved. "Neither is there salvation in any other: for there is none other name under heaven given among men, whereby we must be saved" [Acts 4:12].
"For by grace are ye saved through faith; and that not of yourselves: it is the gift of God:"
[Ephesians 2:8].
Yet, what ... is a free gift to all men, cost so much to The Son Of God, Jesus Christ! Then, why do men everywhere, and every day, refuse to believe The Gospel given so clearly in I Corinthians 15:1-4, and so simply and sweetly in John 3:16?
"For God so loved the world, that he gave his only begotten Son, that whosoever believeth in him should not perish, but have everlasting life."In the beginning was the Word, and the Word was with God, and the Word was God." [John 1:1]
"In him was life; and the life was the light of men. And the light shineth in darkness; and the darkness comprehended it not." [John 1:4,5]
"That was the true light, which lighteth every man that cometh into the world." [John 1:9]
"But as many as received him, to them gave he power to become the sons of God, even to them that believe on his name." [John 1:12]
"While ye have light, believe in the light, that ye may be children of light." [John 12:36]
"Come unto me, all ye that labour and are heavy laden, and I will give you rest." [Matthew 11:28]
Next:
The Gospel Road
---
Top