Sluice Box Adventures
Believing Bible Study in the 21st century
All About True Salvation - The Gospel Road
We must make a decision. It is a matter of whether or not to go to THE STRAIT GATE, or to stay there on The BROAD WAY!
1 Thessalonians 2:13 "For this cause also thank we God without ceasing, because, when ye received the word of God which ye heard of us, ye received it not as the word of men, but as it is in truth, the word of God, which effectually worketh also in you that believe."
---
The Gospel Road
Old Paths Baptist Mission © 2011 Richard St.James
---
Take Gospel Road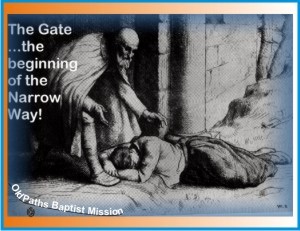 In John Bunyan's
The Pilgrims Progress
there is seen an illustration of a man sitting at a table. He is under tremendous conviction of sin, and is mulling over within his heart the
TWO WAYS
in life that lie before him.
He must make a decision. It is a matter of whether or not to go to
THE STRAIT GATE
, or to stay there on The
BROAD WAY
!
---
Romans 3:23 says: "For all have sinned, and come short of the glory of God."
"For the wages of sin is death; but the gift of God is eternal life through Jesus Christ our Lord." [Romans 6:23]
"And as it is appointed unto men once to die, but after this the judgment:" [Hebrews 9:27].
"But God commendeth his love toward us, in that, while we were yet sinners, Christ died for us." [Romans 5:8]
"And the times of this ignorance God winked at; but now commandeth all men every where to repent:" [Acts 17:30]
"But as many as received him, to them gave he power to become the sons of God, even to them that believe on his name:" [John 1:12].
"Neither is there salvation in any other: for there is none other name under heaven given among men, whereby we must be saved." [Acts 4:12]
"For whosoever shall call upon the name of the Lord shall be saved." [Romans 10:13]


---

AN INVITATION FOR YOU!
Friend: If You know the Bible Is true, and you never received Jesus Christ as your personal Lord and Savior ...And You want to come to Him for salvation ...
Then:
1.Admit ... To God that you are a sinner ... deserving hell Fire ...

2.Believe ... that Jesus Christ is the Son of God ... Who died on the Cross for you!

3.Repent ... Ask Him to forgive You of your sins ...

4.Receive Him... By Asking him to come into Your heart ...

And You Will Receive The Gift Of Eternal Life!

Born of God! ... You Are In The Narrow Way ... To HEAVEN!
If you have trusted Jesus Christ, the Son of GOD as your Savior and LORD then you need to grow as a babe.
This SINCERE MILK is the basic starting food so necessary for every new born-again believer to GROW. We have provided here sixty questions with sixty concise answers in an effort to help the new Christian to grow in the grace, and in the knowledge of Jesus Christ. The command here is to DESIRE the sincere milk of the word. If you will desire this milk … then you will drink it. If you drink it … you will grow!

Next: Bible Milk
---
Top