Sluice Box Adventures
Believing Bible Study in the 21st century
The Androids and the Daysman
Psalms 12:6-7 "The words of the LORD are pure words: as silver tried in a furnace of earth, purified seven times. Thou shalt keep them, O LORD, thou shalt preserve them from this generation for ever.
1 Thessalonians 2:13 "For this cause also thank we God without ceasing, because, when ye received the word of God which ye heard of us, ye received it not as the word of men, but as it is in truth, the word of God, which effectually worketh also in you that believe."
---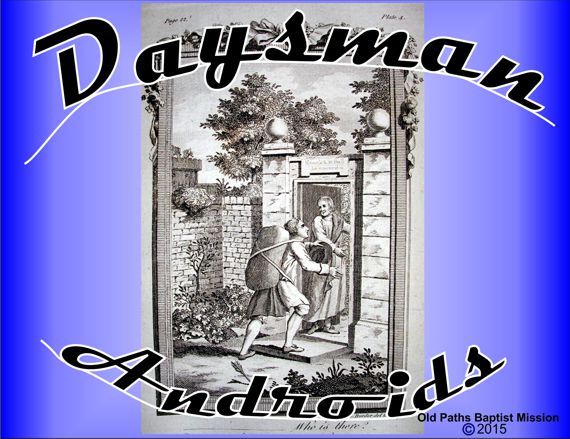 The Androids and the Daysman
Old Paths Baptist Mission © 2015 Richard St.James
---
The Preface / 1. The Remote Siloam / 2. The Coming of the Androids

"You catch wild pigs by finding a suitable place in the woods and putting corn on the ground.
The pigs find it, and begin to come every day to eat the free corn.
When they are used to coming every day, you put a fence down one side of the place where they are used to coming.
---
3. The Real Connection / 4. Trouble Is Here

There is a propensity within men for men to join together in order to seek a utopia without God.
Now, this has been going on ever since the days soon after the world-wide flood of Noah's day.
It especially seems to happen whenever men achieve universal communication gained by the use of a common language as in the days of Nimrod.
---
5. We Need Help / 6. The Daysman

Clearly, someone needs to be "worthy" of repairing the breach if we are to be SAVED.
Someone is needed to be found who would restore mankind to his original state before sin came into the world.
The bottom line is that we need a champion to whip the Devil, and beat Death, and give us eternal life.
---
The Androids and the Daysman
Top