Sluice Box Adventures
Believing Bible Study in the 21st century
All About True Salvation - The Three Kinds Of People
"The heart is deceitful above all things, and desperately wicked: who can know it." [Jeremiah 17:9]
1 Thessalonians 2:13 "For this cause also thank we God without ceasing, because, when ye received the word of God which ye heard of us, ye received it not as the word of men, but as it is in truth, the word of God, which effectually worketh also in you that believe."
---
The Three Kinds Of People
Old Paths Baptist Mission © 2011 Richard St.James
---
Who Will Come?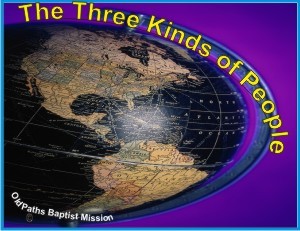 "And every one that was in distress, and every one that was in debt, and every one that was discontented, gathered themselves unto him, and he became a captain over them…"
[I Samuel 22:2]
In this verse is shown a truth. David is given here as a type of Jesus Christ. The Spirit of God has carefully revealed to us, if we will
LISTEN
, that there are only three kinds of people in the world that will ever sense the drawing to Jesus Christ to receive God's so great salvation. [Hebrews 2]
---
Those That Are In Distress
The first kind of people who will gather to Jesus Christ are they who are in distress. The fears of the unknown, the fears of being alone, and the stress of the "fast lane" of this life will wear them down. Their children going bad, their mates divorcing them, and the robbers breaking in, have finally and completely gotten to them. They are the ones who are totally "stuck in the mire" of trouble, and furthermore have no disposition of heart to seek relief from all these troubles by the cures offered by this world.
---
Those That Are In Debt
The second kind of people who will gather themselves to Jesus Christ are those who are in debt. They are "down and outers" who tried to "drink in" all of this world's material possessions, and "got in over their heads" in hock, and came to "the end of themselves." So much for trying to make it big! All who have gotten themselves in a huge financial flopping mess with the big time loans! In the "sea of debt", they almost come to themselves in realizing; "Hey! I have done it all! Whatever there is to be done under the sun, I have done it all, and for what? I am drowning in fear of my own miserable debt, for I only see looming before my eyes the bill collectors, and the
BANKRUPTCY COURT
."
---
Those That Are Discontent
The third kind of people who will haply feel the drawing of Jesus Christ, and prone to gathering to him are those who are discontent with life. They are disinterested with what the world has to offer. All the world's allurements are to them just so much HO-HUM. The person who is discontent is plainly looking for something better than just eating, drinking and being merry. They are bored with it all!
It is these three kinds of people that will be the ready ground for the seed of the Gospel of Jesus Christ. These hearts are "ready hearts" [prepared by the work of the Holy Ghost in reproving of sin and of righteousness], and are ready for the
PLANTING
of the engrafted written word of God. John 3:16 becomes a sweet song them.
"For God so loved the world, that he gave his only begotten Son, that whosoever believeth in him should not perish, but have everlasting life."

The drawing power of the Son of God is felt so strongly by these three kinds of folk that when they hear his "open invitation" to come to him:
THEY COME
!


"Come unto me, all ye labour and are heavy laden, and I will give you rest. Take my yoke upon you, and learn of me; for I am meek and lowly in heart: and ye shall find rest unto your souls."
[Matthew 11:28-29]
The Spirit of God sweetly says to them:
"Behold, I stand at the door, and knock: if any man open the door, I will come in to him, and will sup with him, and he with me."
They
"hear"
and with repentance experienced … they open the door of their hearts to receive Jesus Christ as their
LORD
and
SAVIOR
. In an instant of time, faster than the twinkling of an eye, the Holy Ghost makes the transaction.
Quickened … Made Alive … Born Again … Saved by the blood [from the wrath of God]… Raised … To
SIT
in heavenly places
IN CHRIST
. Written in the Lamb of God's book of
LIFE
, they become
A NEW CREATURE
[II Corinthians 5:17] … an
ADOPTED SO
N of God!


"Who hath delivered us from the power of darkness, and hath translated us into the kingdom of his dear Son."
[Colossians 1:13]
Amen!
Next:
The Two Ways!
---
Top