Sluice Box Adventures
Believing Bible Study in the 21st century
End Of Age Messages
"Through faith also Sara herself received strength to conceive seed, and was delivered of a child when she was past age, because she judged him faithful who had promised" (Hebrews 11:11).
King James Bible Study ... learn The Bible ... receive Help in the time of need!
---
She Judged Him Faithful
Daryl R. Coats March 2004
"Looking for that blessed hope," (Titus 2:11-14)
---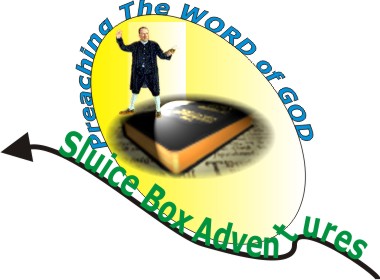 Sarah had a baby! "So what?" the scoffers challenge. "Babies are born every day."
True, but how many babies are born to ninety-year-old women who testify that "the LORD hath restrained me from bearing" (Genesis 16:2)?
Even more important than Sarah's own self-assessment is God's testimony of her condition. God Himself asserts that
"it ceased to be with Sarah after the manner of women"
(Genesis 18:11), because she
"was past age"
for having a child (Hebrews 11:11). Not only was she
"past age,"
but nearly 2000 years later God called specific attention to
"the deadness of Sara's womb"
(Romans 4:19). Yet Sarah had a baby! What happened?
"Through faith also Sara herself received strength to conceive seed, and was delivered of a child when she was past age, because she judged him faithful who had promised"
(Hebrews 11:11).
Yes, God acted miraculously and
"did unto Sarah"
just as He had promised (Genesis 21:1)—but His miraculous act was predicated on something that Sarah herself did. Yes, by the grace of God Almighty, Sarah miraculously conceived seed—but only after she had
"received strength"
to do so. According to the Bible, she received that strength
"through faith"
(Hebrews 11:11).
Sarah might seem an unlikely choice for one of God's "heroes of faith." After all, initially she had disbelieved God's promise, telling her husband to
"go in unto my maid: it may be that I may obtain children by her"
(Genesis 16:2). Later on, she had even laughed at God's word:
"Therefore Sarah laughed within herself"
(Genesis 18:12). She had even lied to cover up her unbelief and skepticism:
"Then Sarah denied, saying, I laughed not, for she was afraid. And he said, Nay, but thou didst laugh"
(Genesis 18:13-15). What changed Sarah's attitude? What caused her to judge God faithful?
At first, Sarah had trusted in the flesh and its limitations:
"After I am waxed old, shall I have pleasure, my lord being old also? ... Shall I of a surety bear a child, which am old?"
(Genesis 18:12-13). Yet after hearing words from God that convicted her of her sin of lying unbelief, she put her confidence in Him:
"Is any thing too hard for the LORD? At the time appointed I will return unto thee, according to the time of life, and Sarah shall have a son"
(Genesis 18:14). Knowing all too well the uncertain "may be's" and "may's" of the flesh (Genesis 16:2), Sarah placed her complete trust in the God Who told her that nothing was too hard for Him.
Truly,
"Faith cometh by hearing, and hearing by the word of God"
(Romans 10:17). Yes, the birth of Isaac was miraculous and supernatural:
"AND the LORD visited Sarah as he had said, and the LORD did unto Sarah as he had spoken"
(Genesis 21:1, my emphasis). Yes, this child was a gift of God, as all children are (Genesis 33:5 and 48:9; Ruth 4:13; Psalm 127:3; Isaiah 8:18). But the physical change that allowed a dead womb to generate a child resulted from Sarah's faith in God and His
"word of promise"
(Romans 9:9). She trusted God to do as He had said—and He did.
---
"faithful": "worthy of trust or belief; reliable" (The American Heritage Dictionary, 2nd College Edition)
---
Like Sarah before she trusted the word of God, most of the world's peoples place their trust in things that are not faithful. Twenty-four-hour television news networks and internet news sites exist only because millions of people today trust the news media. Yet inaccurate weather forecasts, inaccurate election projections, biased coverage, and biased analyses only prove how woefully inadequate and unreliable the news media truly is. What a contrast to
"the faithful God"
Whose "forecasts" have never been (and never will be) wrong (Deuteronomy 7:9)! What a contrast to "the LORD that is faithful" in all His focuses and analyses (Isaiah 49:7)!
Some people trust
"science falsely so called" (
1 Timothy 6:20), judging it more faithful than God. Yet how many times in just my lifetime has science been proven wrong! When I was in elementary school, scientists scoffed at the notion of "continental drift"; today they advocate it. Back then scientists claimed that Saturn had only nine moons; today they say that it has more than 30. Back then scientists claimed that water and life existed only on earth; today they claim that there is evidence for both on Mars. How woefully inadequate are the constantly changing theories and "facts" of science when contrasted with the God whose
"faithfulness reacheth unto the clouds"
(Psalm 36:5)! While untrustworthy science leads only to destruction and confusion, the faithful God calls us
"unto the fellowship of his Son Jesus Christ our Lord"
(1 Corinthians 1:9).
Some people trust their education, a very foolish gesture in a country whose federal school system produces low-scoring, illiterate students who nevertheless have high self-esteem. Education in 21st century America is so inadequate that a college degree in "hotel management" is now necessary for someone to manage a hotel—a degree in "business management" is necessary for someone to be a secretary. How pitifully inadequate are the educational industry and its never-ending
"search for truth"
when compared to God,
"the faithful and true witness"
Who is the truth (Revelation 3:14)!
Some people trust the judicial system. Yet the Supreme Court that in 1986 ruled sodomy laws "constitutional" somehow changed its mind just 15 years later. One court can overrule another court (or an entire branch of government)—which means that nobody can truly rely on the word of a judge. Oh how this contrasts with the pronouncements of the God Who is called
"Faithful and True"
(Revelation 19:11)! How many defendants have thrown themselves on the unreliable
"mercy"
of a court? What a contrast to the fully reliable mercy of God:
"It is of the LORD'S mercies that we are not consumed, because his compassions fail not. They are new every morning: great is thy faithfulness"
(Lamentations 3:22-23)!
Some people trust their government, desperately depending on programs that can't be funded, having more confidence in the constitution than in the Bible, and expecting a political party or a candidate to "save" the country. Oh how sad to trust in an unreliable government instead of the faithful God:
"HEAR my prayer, O LORD; give ear to my supplication: in thy faithfulness answer me, and in thy righteousness"
(Psalm 143:1)!
Some people trust money. For more than two decades American politics have focused on "the economy" instead of on God and His righteousness—and today there are more worries about IRAs and stocks and bonds and taxes and interest rates and unemployment than at any other time in history. The problem with putting trust in money is that money can fail (Genesis 47:15). The two biggest excuses for not obeying God are "We don't have enough money" and "We can't afford it." (When the Lord commanded the apostles to feed a multitude, Philip saw the command in terms of finances; one young lad, however, saw it in terms of trust.) How untrustworthy are
"uncertain riches"
(1 Timothy 6:17) compared to the God Who will faithfully
"stablish you, and keep you from evil"
(2 Thessalonians 3:3, in context of verses 1-5)!
Some people trust friends and family. Yet whether through inability, infirmity, death, or a lack of love, friends and family members often fail us.
"... but God is faithful ..."
(1 Corinthians 10:13). Compared to God, how woefully inadequate are friends and family members!
Some people trust their inability: "I can't do it." Such trust has placed untold multitudes in hell. "You don't know the sins I've committed"; "you don't know the crimes in my past"; "you don't know about the skeletons in my closet." Maybe I don't know—but I do know that God is faithful:
"If we confess our sins, he is faithful and just to forgive us our sins, and to cleanse us from all unrighteousness"
(1 John 1:9). Trust in their inability causes many people to think that they can "lose" their salvation, but God is faithful even when we aren't.
"If we believe not, yet he abideth faithful: he cannot deny himself"
(2 Timothy 2:13). When Jonah rebelled against Him, the God Who called Jonah to preach in Nineveh nevertheless prepared
"a great fish"
to take the wayward prophet to his ordained field of service. Truly, "Faithful is he that calleth you, who also will do it" (1 Thessalonians 5:24)!
The faithful God Who kept His word to Sarah still keeps His word today. Sarah judged God faithful. Have you? If you're saved,
"ye know in all your hearts and in all your souls that not one thing hath failed of all the good things which the LORD your God spake concerning you: all are come to pass unto you, and not one thing hath failed thereof"
(Joshua 23:14). God is faithful, and we should not only trust Him but also obey Him (Hebrews 10:23), sing of Him (Psalm 89:1), and proclaim His faithfulness to others (Psalm 40:10).
—Daryl R. Coats
September 2004
---
The LORD'S Messenger
A Message To The People
"Then spake Haggai the LORD'S messenger in the LORD'S message unto the people, saying, I am with you, saith the LORD." Haggai 1:13
Top