Sluice Box Adventures
Believing Bible Study in the 21st century
End Of Age Messages
Eighty million sold copies of The Da Vinci Code (with who knows how many readers of borrowed copies or of copies obtained from libraries)—almost a billion dollars of tickets for a movie adaptation of the book—all because of a "minster's" bum answer to a Bible question.
King James Bible Study ... learn The Bible ... receive Help in the time of need!
---
"The Testimony of Dan Brown (author of The Da Vinci Code)"
Daryl R. Coats 2009
"Looking for that blessed hope," (Titus 2:11-14)
---
Dear Brethren,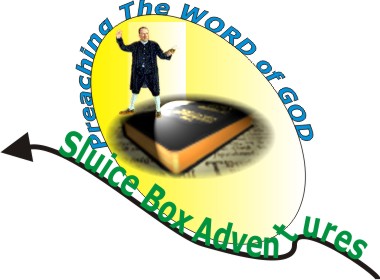 Yesterday (15 September 2009) was the U.S. release date for the newest novel by Dan Brown, author of The Da Vinci Code. As part of the world's efforts to publicize this event as much as possible, the 13 September 2009 issue of Parade features a brief interview with Brown. In response to the question "Are you religious?" Brown responded as follows:

"I was raised Episcopalian, and I was very religious as a kid. Then, in eighth or ninth grade, I studied astronomy, cosmology, and the origins of the universe. I remember saying to a minister, 'I don't get it. I read a book that said there was an explosion known as the Big Bang, but here it says God created heaven and Earth [sic—notice what is and isn't capitalized!] and the animals in seven days. Which is right?' Unfortunately [sic!] , the response I got was, 'Nice boys don't ask that question.' A light went off [sic!], and I said, 'The Bible doesn't make sense. Science makes more sense to me.' And I just gravitated away from religion."

Several things stand out about Brown's testimony.

(1) Brown obviously regrets his decision to abandon the Bible. Notice the use of the word "Unfortunately" as a preface to the answer he got from a "minster."

(2) The Bible says, "The entrance of thy words giveth light; it giveth understanding unto the simple" (Psalm 119:130). The first chapter of Genesis, God obviously brought some light to the young Brown; but (according to his own testimony) when the young Brown rejected the only true source of light, "a light went off"—not ON.

(3) What kind of illogical fool would claim that the plain words of Genesis 1 do not "make sense," yet then claim that the concept of an explosion that created instead of destroyed—an explosion that created order instead of producing chaos and disorder—"makes more sense to me"? No wonder God must call sinners to come reason with Him (Isaiah 1:18)!

(4) Eighty million sold copies of The Da Vinci Code (with who knows how many readers of borrowed copies or of copies obtained from libraries)—almost a billion dollars of tickets for a movie adaptation of the book—all because of a "minster's" bum answer to a Bible question. How many tracts, websites, and books have been produced refuting a novel that had its origins in an insufficient answer to a question about the Bible? How much harm has been done to the ministry because of one bad answer? Not only did a little fox spoil the vines of Brown's mind (Song of Solomon 2:15), but that single mind of a single sinner ultimately produced a single book that has destroyed much good (Ecclesiastes 9:18).

Yes, I realize that we have only Brown's word that he received such an answer and that he received it from a "minster" instead of from an Episcopal priest or rector—and I realize that Brown obviously was not sincere in his search for truth, because he let one faulty answer justify his rejection of the Bible. At the same time I know that when I was in seventh and eighth grades (and even in second and sixth grades), false answers from teachers and denominational literature almost derailed me spiritually. "There but for the grace of God go I."

By the grace of God, I pray that nobody will ever truthfully accuse me of giving him an inadequate answer to a Bible question. My answers may be rejected or scorned or mocked or ridiculed, but I pray God that they will at least be CORRECT.

"Looking for that blessed hope,"

Bro. Daryl Coats (Titus 2:11-14)
---
The LORD'S Messenger
A Message To The People
"Then spake Haggai the LORD'S messenger in the LORD'S message unto the people, saying, I am with you, saith the LORD." Haggai 1:13
Top