Sluice Box Adventures
Believing Bible Study in the 21st century
The Foundation Was Established
Psalm 12:6-7
"T

he words of the LORD are pure words: as silver tried in a furnace of earth, purified seven times. Thou shalt keep them, O LORD, thou shalt preserve them from this generation for ever.

"
And surely no nation had ever less occasion to be ashamed of its ancestry, or more occasion for gratulation in that respect; for while most nations trace their origin to barbarians, the foundations of our nation were laid by civilized men, by Christians.
---
The Memory of Our Fathers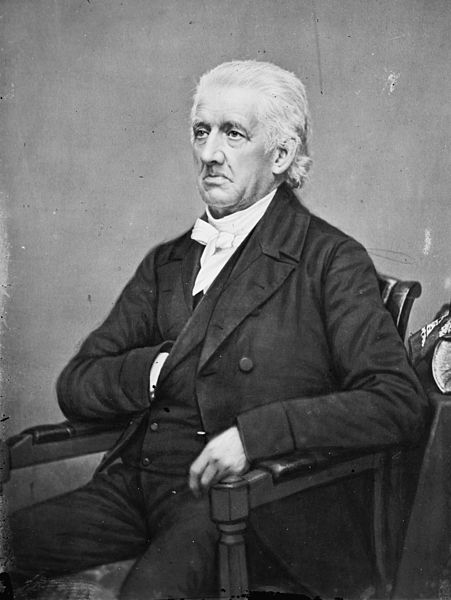 Lyman Beecher, 1775-1863, a famous Congregational minister wrote the following:
THE MEMORY OF OUR FATHERS
We are called upon to cherish with high veneration and grateful recollections, the memory of our fathers. Both the ties of nature and the dictates of policy demand this. And surely no nation had ever less occasion to be ashamed of its ancestry, or more occasion for gratulation in that respect; for while most nations trace their origin to barbarians, the foundations of our nation were laid by civilized men, by Christians. Many of them were men of distinguished families, of powerful talents, of great learning and of preeminent wisdom, of decision of character, and of most inflexible integrity. And yet not unfrequently they have been treated as if they had no virtues; while their sins and follies have been sedulously immortalized in satirical anecdote.
The influence of such treatment of our fathers is too manifest. It creates and lets loose upon their institutions, the vandal spirit of innovation and overthrow; for after the memory of our fathers shall have been rendered contemptible, who will appreciate and sustain their institutions? "The memory of our fathers" should be the watchword of liberty throughout the land; for, imperfect as they were, the world before had not seen their like, nor will it soon, we fear, behold their like again. Such models of moral excellence, such apostles of civil and religious liberty, such shades of the illustrious dead looking down upon their descendants with approbation or reproof, according as they follow or depart from the good way, constitute a censorship inferior only to the eye of God; and to ridicule them is national suicide.
The doctrines of our fathers have been represented as gloomy, superstitious, severe, irrational, and of a licentious tendency. But when other systems shall have produced a piety as devoted, a morality as pure, a patriotism as disinterested, and a state of society as happy, as have prevailed where their doctrines have been most prevalent, it may be in season to seed an answer to this objection.
The persecutions instituted by our fathers have been the occasion of ceaseless obloquy upon their fair fame. And truly, it was a fault of no ordinary magnitude, that sometimes they did persecute. But let him whose ancestors were not ten times more guilty, cast the first stone, and the ashes of our fathers will no more be disturbed. Theirs was the fault of the age, and it will be easy to show that no class of men had, at that time, approximated so nearly to just apprehensions of religious liberty; and that it is to them that the world is indebted for the more just and definite views which now prevail.
The superstition and bigotry of our fathers are themes on which some of their descendants, themselves far enough from superstition, if not from bigotry, have delighted to dwell. But when we look abroad, and behold the condition of the world, compared with the condition of New England, we may justly exclaim, "Would to God that the ancestors of all the nations had been not only almost, but altogether such bigots as our fathers were."
---
Men Never Learn From History!
It is a heart problem!
Men refuse to learn the "lessons" afforded by the light of HISTORY:
the recorded historical events which occurred as fulfillment of Bible prophecy. Now, these are the basic truths with which we all must deal with one way or another!
Two Basic Reasons For Our Failing Our History Lesson!
The Removing Of The Anchoring Landmarks
We have steadily almost imperceptibly at times removed one by one the great principles that were part of the formulation of the United States of America.
We have been busy for generations removing the anchoring landmarks that came as a result of the revivals God blessed this country with in its early years by the preaching of the word of GOD.
We have disobeyed the commandment in Proverbs 22:28- "Remove not the ancient landmark which thy fathers have set."
The Departure from the BIBLE
What was the catalyst or reason for this downward spiral? Are you ready! The eyes of men everywhere had been clouded over with cataracts because of our apostasy or departure from the
BIBLE
… God's word (and more exactly including the multiplicity of translations and corruption's to God's written word).
This apostasy began in America in the
BIBLE SCHOOLS
early in the last century (1901) when Philip Schaff (with other rank liberals who had rot-gut unbelief in God's word within their hearts) colluded with the English RV committee of 1885 (Westcott and Hort) to produce the American Standard Version (ASV), also known as
"
the Rock of Bible Honesty
"
by the scholars, or more accurately, by Bible believers, as a prime example of a new age version of a corrupted bible.
---
Baptist Heritage
It is to the Baptists ... that we owe primarily ... our religious freedom, and it is Roger Williams [of Rhode Island] in particular, that is the most important contributor of our religious freedom we enjoy in the United States of America.
The Bloody Tenet of Persecution for Cause of Conscience is the primary document, which provided the underlying principles for religious freedom, which in turn gave rise to the then future documents of The Declaration of Independence, The United States Constitution and The Bill Of Rights.
Top