Sluice Box Adventures
Believing Bible Study in the 21st century
The Foundation Was Established
Psalm 12:6-7
"T

he words of the LORD are pure words: as silver tried in a furnace of earth, purified seven times. Thou shalt keep them, O LORD, thou shalt preserve them from this generation for ever.

"
"When I have Suffered sufficiently, the Lord will then take me to himself -- but what are all my sufferings compared to those of the blessed Saviour, who died upon that cursed tree for me, mine are nothing."
---
President Andrew Jackson
Old Paths Baptist Mission © 2011 Richard St.James
Baptist History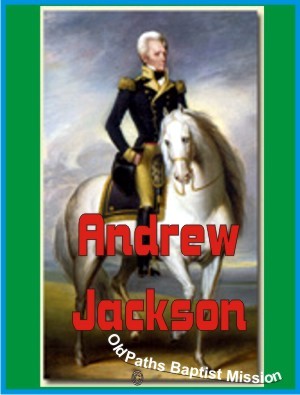 Andrew Jackson - Old Hickory
Quotations
[young Nashville lawyer:]
"Mr. Cartwright, do you believe there is any such place as hell, as a place of torment?"
[Rev. Peter Cartwright:]
"Yes, I do."
[young Nashville lawyer:]
"Well, I thank God I have too much good sense to believe any such thing."
[Andrew Jackson:]
"Well, sir, I thank God that there is such a place of torment as hell."
[young Nashville lawyer:]
"Why, General Jackson, what do you want with such a place of torment as hell?"
[Andrew Jackson:]
"To put such damned rascals as you are in, that oppose and vilify the Christian religion."
-- date unspecified, from Autobiography of Peter Cartwright
---

"I trust that the God of Isaac and of Jacob will protect you, and give you health in my absence, in him alone we ought to trust, he alone can preserve, and guide us through this troublesome world, and I am sure he will hear your prayers. We are told that the prayers of the righteous prevaileth much, and I add mine for your health and preservation until we meet again." -- letter to his wife, Rachel Jackson, 21 December 1823 (this is typical of Jackson's letters to his wife)
---
"Your letter convaying the melancholy intelligence of the death of your dear little babe, has been some time recd -- I tender to you and your dear Mary my heartfelt condolence on this sad & mournful occasion. I am truly happy to find that you both have met this severe bereavement with that christian meekness & submission as was your duty. This charming babe was only given you from your great creator and benefactor, it is probable you doated upon him too much, to the neglect of him who gave the boon, & he has taken him from you, to bring to your view that to him your first love is due, and by this chastisement, to bring you back to your duty to god -- it is to him that we owe all things -- it is he that giveth, and he has a right to take away, and we ought humbly to submit to his will, and be always ready to say, blessed be his name. We have one consolation under this severe bereavement, that this babe is now in the boosom of its saviour, a sweet little angel in heaven, free from all the temptation, pains & evils of this world and we ought to prepare to unite with him & other sorts[saints?] who have gone before us to those mansions of bliss, where the weary are at rest -- Then let us not mourn for the dead but for the living, and prepare to follow him to the mansions of bliss." -- letter to Andrew Jackson Hutchings, 25 January 1835
---

[For Soul Liberty & Against National or State Church (such as Britain has with the Anglican Church] "I was brought up a rigid Presbyterian, to which I have always adhered. Our excellent constitution guarantees to every one freedom of religion, and charity tells us, and you know Charity is the real basis of all true religion, and charity says judge the tree by its fruit. all who profess Christianity, believe in a Saviour and that by and through him we must be saved. We ought therefore to consider all good Christians, whose walk corresponds with their professions, be him Presbyterian, Episcopalian, Baptist, Methodist or Roman catholic. let it be remembered by your Grandmother that no established religion can exist under our glorious constitution." -- letter to Ellen Hanson, 25 March 1835
---

Jackson's Trust In THE BOOK and in JESUS CHRIST
"When I have Suffered sufficiently, the Lord will then take me to himself -- but what are all my sufferings compared to those of the blessed Saviour, who died upon that cursed tree for me, mine are nothing." -- statement made during his final illness, 1 June 1845
"God will take care of you for me. I am my God's. I belong to him, I go but a short time before you, and I want to meet you all in heaven, both white & black. "What is the matter with my Dear Children, have I alarmed you? Oh, do not cry -- be good children
& we will all meet in heaven." -- final words, 8 June 1845

Next: Abraham Lincoln
---
Men Never Learn From History!
It is a heart problem!
Men refuse to learn the "lessons" afforded by the light of HISTORY:
the recorded historical events which occurred as fulfillment of Bible prophecy. Now, these are the basic truths with which we all must deal with one way or another!
Two Basic Reasons For Our Failing Our History Lesson!
The Removing Of The Anchoring Landmarks
We have steadily almost imperceptibly at times removed one by one the great principles that were part of the formulation of the United States of America.
We have been busy for generations removing the anchoring landmarks that came as a result of the revivals God blessed this country with in its early years by the preaching of the word of GOD.
We have disobeyed the commandment in Proverbs 22:28- "Remove not the ancient landmark which thy fathers have set."
The Departure from the BIBLE
What was the catalyst or reason for this downward spiral? Are you ready! The eyes of men everywhere had been clouded over with cataracts because of our apostasy or departure from the
BIBLE
… God's word (and more exactly including the multiplicity of translations and corruption's to God's written word).
This apostasy began in America in the
BIBLE SCHOOLS
early in the last century (1901) when Philip Schaff (with other rank liberals who had rot-gut unbelief in God's word within their hearts) colluded with the English RV committee of 1885 (Westcott and Hort) to produce the American Standard Version (ASV), also known as
"
the Rock of Bible Honesty
"
by the scholars, or more accurately, by Bible believers, as a prime example of a new age version of a corrupted bible.
---
Baptist Heritage
It is to the Baptists ... that we owe primarily ... our religious freedom, and it is Roger Williams [of Rhode Island] in particular, that is the most important contributor of our religious freedom we enjoy in the United States of America.
The Bloody Tenet of Persecution for Cause of Conscience is the primary document, which provided the underlying principles for religious freedom, which in turn gave rise to the then future documents of The Declaration of Independence, The United States Constitution and The Bill Of Rights.
Top