Sluice Box Adventures
Believing Bible Study in the 21st century
Books for the Believer in Jesus Christ
John 11:26 "And whosoever liveth and believeth in me shall never die. Believest thou this?"
1 Thessalonians 2:13 "For this cause also thank we God without ceasing, because, when ye received the word of God which ye heard of us, ye received it not as the word of men, but as it is in truth, the word of God, which effectually worketh also in you that believe."
---
The Gospel of John
Old Paths Baptist Mission © 2011 Richard St.James
The Gospel of John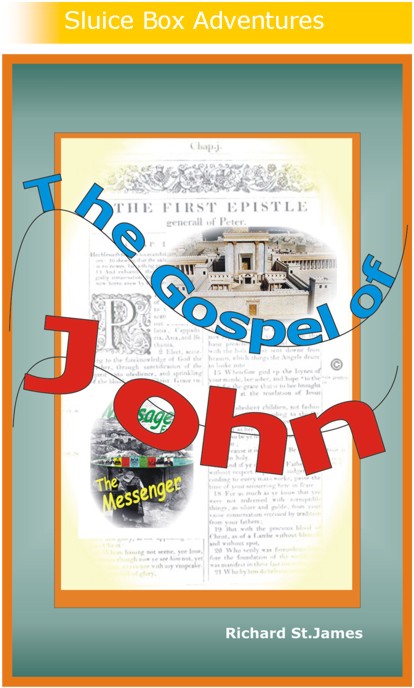 The Gospel of John is a new book. This is from the studies in the the Gospel according to John taught at Old Paths Baptist Mission.
This is God's Holy WORD to you and I! Do you believe it? The A.V.1611 [or The King James Bible) is God's word PRESERVED in the English language for you and me. It came from the English Reformation.
This Bible declares that: "All scripture is given by inspiration of God, and is profitable for doctrine, for reproof, for correction, for instruction in righteousness:" [II Timothy 3:16].
God's inspired word is preserved in the A.V.1611. The word "preserved" means maintained inspiration. "The words of the LORD are pure words: as silver tried in a furnace of earth, purified seven times. Thou shalt keep them, O LORD, thou shalt preserve them from this generation for ever." [Psalm 12:6-7] "PRESERVE."
You see what God is saying here? GOD promises that no matter what man does, even with his corrupting influence in all these Madison Avenue money-making productions, which have resulted in over 200 "new" English translations of the Bible in the last 100 plus years, HE WILL [in spite of the scholars) "PRESERVE THEM FROM THIS GENERATION FOR EVER!"
Stick with the Book! Amen! Amen! AMEN!
There are 264 comb-bound pages in this edition.
Ready to buy? $ 48.00 each plus shipping
Contact us via email: info@kjbiblehelp.com
Top