MILK!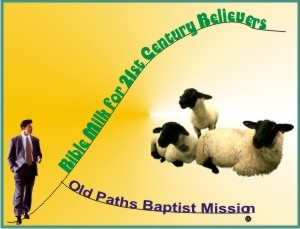 Lesson:
"As newborn babes, desire the sincere milk of the word, that ye may grow thereby"[1 Peter 2:2]
Question Number 01
Question: WHAT has God done for you?
---
Answer: God has made me, he keeps me, and he can save me.
GOD MADE YOU!
It is the GOD of heaven and earth who has made you. "For in him we live, and move, and have our being; as certain also of your own poets have said, For we are also his offspring. Forasmuch then as we are the offspring of God, we ought not to think that the Godhead is like unto gold, or silver, or stone, graven by art and man's device." [Acts 17:28-29]
GOD KEEPS YOU!
Furthermore, it is "by the word of his [GOD] power" that you [your very body, soul and spirit] are held together. GOD upholds "all things by the word of his power." [Hebrews: 1:3]
GOD CAN SAVE YOU!
"The Lord is not slack concerning his promise, as some men count slackness; but is longsuffering to us-ward, not willing that any should perish but that all should come to repentance." [2 Peter 3:9]
---
So then faith cometh by hearing, and hearing by the word of God.
The Formula
The "spiritual milk" for the 21st Century believer in Jesus Christ is the same spiritual milk that was recommended by the Spirit of God for now almost two thousand years.

This SINCERE MILK is the basic starting food so necessary for every new born-again believer to GROW.
[2 Timothy 3:16] All scripture is given by inspiration of God, and is profitable for doctrine, for reproof, for correction, for instruction in righteousness:
[2 Timothy 3:17] That the man of God may be perfect, throughly furnished unto all good works.
---
Next: Lesson Number 2