Sluice Box Adventures
King James Bible Study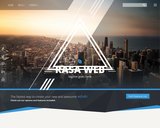 Sluice Box Adventures is an-end-of-the-age ministry ... a help in the time of need ... and is dedicated to:
The defense of the King James Bible [A.V. 1611] as the word of God in the English language.

The winning of souls to Jesus Christ, Who is the Son of GOD.

The growth of believers in Jesus Christ.

The promotion of the family as God has defined it.

Bible 1611.com is for those who live in the end of this age … the dispensation of the church.

Bible Believers SBG - King James Only Directory for Bible-Believing Websites that

Promote the OLD PATHS ... for families ... for churches ... for the nation!
Heb 4:15 For we have not an high priest which cannot be touched with the feeling of our infirmities; but was in all points tempted like as we are, yet without sin.
Heb 4:16 Let us therefore come boldly unto the throne of grace, that we may obtain mercy, and find grace to help in time of need.