J. Frank Norris
A master pulpiteer, Dr. Norris was a fierce opponent of Communism, Liberalism, and evolution, and was acclaimed to be one of the twentieth century's outstanding leaders of Bible fundamentalism.
King James Bible Study - Help in the Time of Need
The Issue:
The Basic Truths Of Life!
TRUTHS
Everyone that ever walked on this planet must come to terms in this life with some basic TRUTHS. These will be the basic truths that no one can argue with, if they are sane. Of course, if you believe what God says in His Own BOOK about you, then you will have no problem with accepting these basic truths.
1. The Brevity Of Life
"For what is your life? It is even a vapour, that appeareth for a little time, and then vanisheth away." (James 4:14b) Our life is brief! like a vapor, or like smoke. "Is there not an appointed time to man upon earth? are not his days also like the days of an hireling?" (Job 7:1) He is born, and then he will die! This is certain! (The exception being Enoch and Elijah, and also, those believers in Jesus Christ who are alive when He comes for His Church.)
2. The Brevity Of Your Remembrance
You will soon be forgotten. A man is remembered only a little while, and then he is forgotten. "He shall return no more to his house, neither shall his place know him anymore. Are not my days few? cease then, and let me alone, that I may take comfort a little, Before I go whence I shall not return, even to the land of darkness and the shadow of death; A land of darkness, as darkness itself; and of the shadow of death, without any order, and where the light is as darkness." (Job 7:10 & 10:20-22)
3. The Sureness Of Trouble
Life is bale full of troubles. I have also found this very true!!! "Man that is born of a woman is of few days, and full of trouble. He cometh forth like a flower, and is cut down: he fleeth also as a shadow, and continueth not." (Job 14:1).
4. The Verity Of The White Throne Judgment
"And as it is appointed unto men once to die, but after this the judgment" (Hebrews 9:27). You will not miss this one unless YOU ARE HID in the CLEFT OF THE ROCK!
5. The Eternality And The Finality Of What You Do With Jesus Christ:
We will all be held accountable over this issue. It is a hard fact of life, my friend. Now will you take God's offer of eternal life ... purchased by His Son ... for all those who will put their trust in Him ... a thumbs down? You will everlastingly suffer the consequences!
6. That Men Never Learn From History
We learn from History That Men Never Learn From History! It is a heart problem! Men refuse to learn the "lessons" afforded by the light of HISTORY: the recorded historical events which occurred as fulfillment of Bible prophecy. Now, these are the basic truths with which we all must deal with one way or another!
7. What Should You Do?
"But what saith it? The word is nigh thee, even in thy mouth, and in thy heart: that is, the word of faith, which we preach;
That if thou shalt confess with thy mouth the Lord Jesus, and shalt believe in thine heart that God hath raised him from the dead, thou shalt be saved.
For with the heart man believeth unto righteousness; and with the mouth confession is made unto salvation.
For the scripture saith, Whosoever believeth on him shall not be ashamed.
For there is no difference between the Jew and the Greek: for the same Lord over all is rich unto all that call upon him.
For whosoever shall call upon the name of the Lord shall be saved"; [Romans 10:8-13]
THE BIBLE :
Believe The BOOK!
The King James Bible
This is God's Holy WORD to you and I! Do you believe it? The A.V.1611 (or The King James Bible) is God's word PRESERVED in the English language for you and me. It came from the English Reformation. This Bible declares that: "All scripture is given by inspiration of God, and is profitable for doctrine, for reproof, for correction, for instruction in righteousness." [2 Timothy 3:16] God's inspired word is preserved in the A.V.1611. The word "preserved" means maintained inspiration. "The words of the LORD are pure words: as silver tried in the furnace of earth, purified seven times. Thou shalt keep them, O LORD, thou shalt preserve them from this generation for ever." [Psalm 12:6-7] "PRESERVE." .
Home In The Hills:
[Or New Jerusalem]
LONG HOME
Everybody is going home someday. Everybody is going to their LONG HOME. When you die, you are going to go to your "long home" whether, it be in "Heaven" or in "Hell". Do you realize that truth? "Also when they shall be afraid of that which is high, and fears shall be in the way, and the almond tree shall flourish, and the grasshopper shall be a burden, and desire shall fail: because man goeth to his long home, and the mourners go about the streets:" [Ecclesiastes 12:5]. Read More?
The Rear Guard Preachers - J. Frank Norris
Old Paths Baptist Mission © 2011 Richard St.James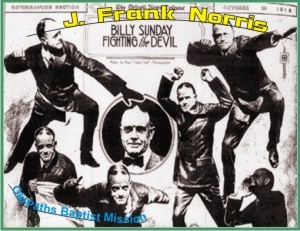 ---
"This man was a walking rodeo, but he was also compassionate, driven to win souls, and he was never dull. Some stories about him are real rough, but he left in his wake a bunch of preacher boys who are today in old age and still romping along giving the devil a rough time by the power of God.
Fundamental Baptist pastor. J. Frank Norris was born in Dadeville, Alabama. He was graduated from Baylor University in Waco, Texas, and Southern Baptist Theological Seminary in Louisville, Kentucky. He was ordained to the ministry in 1899 and soon after began his long, stormy career by serving as editor of The Baptist Standard, the official voice of Texas Baptists. He aided Dr. B.H. Carroll in the founding of Southwestern Baptist Theological Seminary in Fort Worth, Texas.
In 1909 he accepted the pastorate of the First Baptist Church of Fort Worth and remained there until his death. In 1935 he also accepted the pastorate of Temple Baptist Church, Detroit, Michigan, and held joint pastorates of these two great churches separated geographically 1,300 miles for 15 years. During those years, the combined attendance of both churches, under the leadership of one pastor, constituted the world's largest Sunday School.
A master pulpiteer, Dr. Norris was a fierce opponent of Communism, Liberalism, and evolution, and was acclaimed to be one of the twentieth century's outstanding leaders of Bible fundamentalism.
In 1939, with the aid of Dr. Louis Enzminger, he organized the Bible Baptist Seminary in Fort Worth, Texas, an institution which excelled in the training of young preachers in the building of large Sunday Schools and churches. Many of the graduates of this school have built some of the largest churches in America. A friend of world leaders, compassionate soul-winner, and Bible expositor, Dr. Norris died in Keystone, Florida, on August 20, 1952, and was buried in Fort Worth, Texas, on Saturday, August 24, 1952.
---
HERE ARE SOME STORIES ABOUT J FRANK NORRIS:
You may not like them, but they do show how this man was so much like Jehu and Ezekiel.
The Call to Fort Worth and What Came of It
Thirty Days to Leave Town
J. Frank Norris was famous in his fight against liquor. His enemies were also vicious, trying to run him out of town and even murder him.
But God had the last say in the matter.
Romans 12:19 Dearly beloved, avenge not yourselves, but rather give place unto wrath: for it is written, Vengeance is mine; I will repay, saith the Lord.
And Judgment Came -- Brains Scattered For 100 Feet on Track
The man who presided at the meeting when a hundred and sixty-five banded themselves together to run Norris out of town -- this man was a powerful and influential man. He was chairman of the Democratic party of Texas. He lifted his glass of liquor and said to the crowd,
"Let's stand and drink to the death of our enemy."
Six days after that night...he and his negro chauffeur were driving to town and crossed the Interurban...The motorman on the front end said,
"I saw the car moving slowly and thought surely it would stop, but it came on the track."
And that Interurban coming sixty miles an hour hit that car amidship and smashed it to smithereens and the two Interurbans plunged from the track and there were more than sixty people in both cars. Not one person on the Interurban had a broken bone. The negro chauffeur was unscathed. But the insides and brains of this man who had drunk the toast to the death of Norris six days before -- his brains were scattered for a distance of a hundred feet on the track.
He lay in state in the auditorium of the Chamber of Commerce -- "And great fear came upon every soul."
And the revival increased.
One of the main men in the conspiracy to run Norris out of town came to his house at two o'clock the next morning...When he rang the bell Mrs. Norris said, "I'd better go."
But Norris said, "No, I'll go." And there stood one of his bitterest enemies. And he said, "Let me come in."
And there that man knelt in Norris' front room with him and God and was gloriously saved and became one of his strongest friends and supporters."
From p.111 of The J. Frank Norris I Have Known For 34 Years, by Louis Entzminger
---
Broken Quart Bottle of Liquor With Brains of District Attorney
"It would be now in order to tell the fate of the conspirators.
Take the District Attorney who was a tool of the liquor interests. After the conspiracy trial had come to nought -- and only a short time afterwards -- this prosecuting attorney loaded his fine new Cadillac car with liquor, two women and another man. They were going across the North Main Viaduct at a terrific speed and ran head-on into an on-coming street car. This District Attorney and the other three in the car were killed instantly, and nobody was hurt in the street car, only shaken up.
There was a half quart bottle of liquor broken and it was sitting straight up on the pavement, and it had a lobe of brains in it.
This bottle was and brains was carried to Dr. Norris and he took it to the pulpit and preached a sermon on it the next Sunday night on the text, " The Wages of Sin is Death."
Of course it created a great sensation. Norris was severely criticized. Some women fainted in the audience. And some men did too. You talk about "Great Fear coming upon every soul!" It scared me almost to death.
He fought on. He preached on."

From p.112 of The J. Frank Norris I Have Known For 34 Years, by Louis Entzminger
---
Wise as Serpents, Harmless as Doves
Pastor Norris was a real soul winner, and he was not inhibited by a man's fame or wealth. He went among all the businessmen in his community witnessing and getting to be their very close friend. He especially took an interest in the car dealers in his city. He witnessed to them all, though most of them were Roman Catholics.
After a good number of years he had not won one car dealer to the Lord. On a trip to Europe, Pastor Norris went around to visit the Vatican. He bought several large expensive crucifixes and had them personally blessed by the Pope.
Upon returning to his home town, pastor Norris went around to each of the car dealers, and he gave them each a crucifix. He never went back to witness to them. He said that they had made their choice. But, the car dealers all were so impressed with Pastor Norris that from that day onward they showered him with all sorts of gifts and money for his church.
Pastor Norris's biblical principle was the following:
Ecclesiastes 2:26
For God giveth to a man that is good in his sight wisdom,
and knowledge, and joy: but to the sinner he giveth travail, to gather and to
heap up, that he may give to him that is good before God. This also is vanity and vexation of spirit.
That is hard to argue with."
---
Attempted Murder
"At 10 A.M. Friday morning July 16, 1926 two city officers, Harry Conner and Fred Holland, warned Dr. Norris that D.E. Chipps had made repeated threats, and before many others, in Texas Hotel the night before, he said,
"I am going to kill J. Frank Norris."
Norris had never heard of Chipps, knew nothing about him, and therefore could have no malice or hate towards him.
On the fateful Saturday afternoon Chipps walked up Main Street to the Westbrook Hotel where he was staying and told many people, "Sunday morning the Star-Telegram will have a front page headline, D.E. Chipps Kills J. Frank Norris."
Those were the exact words in the Star-Telegram and and his prophecy came true except their names were reversed.
At 3:30 P.M. he asked the PBX operator at the Westbrook Hotel, "Get J. Frank Norris on the telephone." He was impatient and cursed her because she did not get Norris quickly enough...She later testified,
"Because of Chipp's anger and abuse I listened to the conversation. Everybody in the hotel was afraid of him. I head him call Dr. Norris mane vile names, and he was very profane. I heard him repeat several time, "You blankety, blankety blank, I am coming over there and kill you."
L.H. Nutt, a deacon in the First Baptist Church was in the office of the pastor at that time. He was teller in the Farmer's and Mechanics Bank, a very honorable man. After those violent threats from Chipps ever the phone, Norris turned to Nutt and asked,
"Who is this D.E. Chipps?"
Nutt told him the reputation of Chipps, that he was a trouble-maker and had had mane escapes with the police.
Before Norris knew it Chipps kicked the dorr open -- it was only a block away from the Westbrook Hotel -- and announced so all could hear, "This is D.E. Chipps you blankety, blankety blank -- I am going to kill you."
The night watchman of the church always left his gun in a drawer in the pastor's office safe keeping. It has always been a joke how it has been published "Two gun Norris," "Pistol Packing' Pastor," et cetera. He never carried a gun.
Norris sought to quiet Chipps and succeeded for a moment. Then he saw that Chipps' anger and abuse increased -- and Nutt testified that Chipps kept his hand on his right side, with his coat pulled back, and kept moving it -- finally Norris said,
"There is the door and I don't wat any trouble with you."
Norris was standing with his back against his desk and had his hand on the gun and did everything he could to avoid trouble.
Chipps went out into the hallway and the mayor of the city and some others who had sent Chipps to Norris' office were waiting in the car across the street in front of the First Baptist Church office building where Norris' office was.
No doubt Chipps' mock pride got the best of him and he whirled around and started back into Norris' office and said, so the testimony shows, "I will kill you, you blankety, blankety blank!"
And quick as a flash it was over.
Immediately the mayor, the city manager and other henchmen were up the stairway. Norris had gone into the larger office to phone his wife.
The testimony showed there were two guns found on the floor in the room and they were never presented in the trial. And why?
The testimony showed that at the morgue, the Mayor, H.C. Meacham, said,
"Poor Chipps, I sent him to his death."
Of course Norris was quickly vindicated, and not-withstanding all the dregs of bitterness and passion of years that entered into it.
Norris went before the congregation the next Sunday morning and said, "It is a great sorrow, but I have no apology for what I have done. I could not have done otherwise. I was forced to defend myself, my wife and children," and he offered his resignation.
The church leaped to its feet and refused to accept his resignation. Those present will never forget the first Sunday morning afterwards."
From pp. 107-109 of The J. Frank Norris I Have Known For 34 Years, by Louis Entzminger
---
Thirty Days to Leave Town
"One of the most trying experiences in all my life was when there was a red hot local option election on in Fort Worth and Tarrant County. The financial and liquor interests united and most preachers were in complete silence. But not Norris.
He spoke in every school house and community throughout the county.
In the midst of this red hot campaign a hundred and sixty-five men met in the dining room of the Metropolitan Hotel where the Chamber of Commerce now holds its office.
They appointed a committee to wait on Norris and they came to his office, three of them, and delivered an ultimatum and said, "We will give you thirty days, time to wind up your affairs and leave town of else take the consequences."
Norris thanked them for giving him thirty days and said,
"I will give you twenty-nine of them back."
Excitement was running high. You could see knots of people standing on the sidewalk and there was but one theme.
Norris had no radio, had no paper, and the daily papers refused to take his advertisement for pay. He struck off circulars by the tens of thousands and published and printed the demand that he leave town and gave the names of the men who were back of the demand at 15th and Main Streets.
Talk about crowds! It seemed as if everybody in town was there, and a lot more.
Norris arranged for a truck to be at this corner before sun down.
Talk about scared! I didn't want to be in it. I knew there would be wholesale killing. But on the other hand I was not coward enough to forsake me partner. I went.
From what I heard and understood, I think everybody was carrying his gun that night. But Norris didn't have any.
The police tried to clear the streets, but in vain.
The fire company tried it, but in vain.
For blocks and blocks they were stacked.
Norris wore white trousers, white shirt, white tie, and was in shirt sleeves. Didn't even have a pen knife.
He tried to force his way through that mass of packed humanity, and one man who owned the saloon across the street -- Norris pushed up against him and he turned and ripped out an oath and said, "What do you want?"
Norris said, "I want to get to that corner down there where I can speak."
He looked at him and said, "Who are you?"
"I am Frank Norris."
This big strong 225 pounder whirled around with a forty-five in his hand and said -- and everybody heard him -- "I came out here to get the first shot." And he turned to Norris and said, "follow me! The first man that lays a hand on this preacher I will shoot a hole through him you can drive that truck through."
He went through that crowd with the gun held before him, Norris hanging on to his coat tail.
The big fellow walked up, climbed up on the truck and sat down with that gun across his lap and said, "Frank, give 'em hell."
He stood there on that seat and said,
"I have nothing against you, and I call on the God of Elijah, the God on my mother to lay bare His mighty arm in judgment in this city."
And then he led the huge crowd in singing, "There's a Land that is Fairer Than Day." And shen he had finished he said, "Good night." Everybody quietly stole away and nobody was hurt.
The next morning this big saloon keeper came to the church office and walked in, and I was scared again when he pulled out that long gun and he laid it on Norris' desk and said,
"I am through. I want you to pray for me, and I want to give you this gun as a memento." And he knelt and was gloriously saved and Norris baptized him.
Of course he went out of the saloon business."

Pp. 91- 92 from The J. Frank Norris I have Known For 34 Years by Louis Enzminger, D.D.

Go to: Mordeicai Ham
Psalm 12 ... is the promise to us!
Purified seven times ... God's word is kept in spite of men!
Help, Lord; for the godly man ceaseth; for the faithful fail from among the children of men.
[Verse 1]
They speak vanity every one with his neighbour: with flattering lips and with a double heart do they speak. [Verse 2]
The Lord shall cut off all flattering lips, and the tongue that speaketh proud things: [Verse 3]
Who have said, With our tongue will we prevail; our lips are our own: who is lord over us? [Verse 4]
For the oppression of the poor, for the sighing of the needy, now will I arise, saith the Lord; I will set him in safety from him that puffeth at him. [Verse 5]
The words of the Lord are pure words: as silver tried in a furnace of earth, purified seven times. [Verse 6]
Thou shalt keep them, O Lord, thou shalt preserve them from this generation for ever. [Verse 7]
The wicked walk on every side, when the vilest men are exalted. [Verse 8]